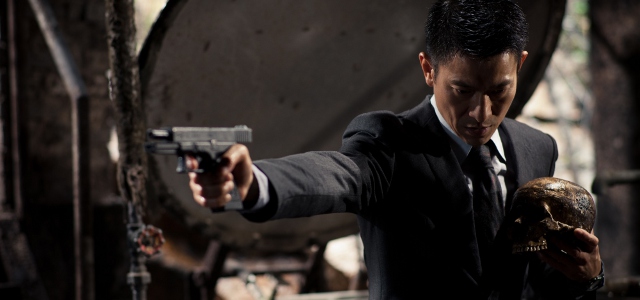 Last week I posted my first set of earmarked films for TIFF 2013, here is the next set. With near 20 films cherry picked in part 1 I'm starting to surpass my ticket package and can't wait for the next set of announcements next week. Regardless, here's what grabbed me from the Canadian Film Announcements and yesterdays added films at first glance.
Blind Detective (dir. Johnnie To)
When you read that this:
as a retired sleuth with an uncanny ability teams with a quick-witted inspector to fight Hong Kong's criminal underworld, one costume at a time.
is a film directed by Johnnie To what else can you say but YES??!!!??
How I Live Now (dir. Kevin Macdonald)
I'm still deeply in love with Saoirse Ronan from Hanna and I'm hoping this film doesn't ruin it because this film looks like it can toe that line between action and romantic drama longing, and it's directed by Kevin Macdonald.
Southcliffe (dir. Sean Durkin)
I kind of glanced at this trailer and while it didn't grab me the moment I saw the name Sean Durkin I jumped… the guy who made Martha Marcey May Marlene has made a new movie.
Unforgiven (dir. Lee Sang-il)
While I am the kind of guy to bias a remakes, especially of films I genuinely love. However, the idea of a samurai version of Unforgiven that reminds me a little bit of Yojimbo sounds pretty awesome.
The Wind Rises (dir. Hayao Miyazaki)
It's directed by Miyazaki. This would be the first film I'd be able to see of his on a big screen ever. This seems weird and amazing.
Gabrielle (dir. Louise Archambault)
A film about "a developmentally challenged young woman's quest for independence and sexual freedom" that looks like a really well put together drama. Worth a mention.
The Husband (dir. Bruce McDonald)
After Pontypool I'm always interested in what McDonald is doing. Still annoyed I've yet to see Trigger, but hopefully this one will make up for it.
Sarah Prefers To Run (dir. Chloé Robichaud)
It just sounds good.
This stylish and slyly comic chronicle of a young woman's sexual awakening is the highly anticipated feature debut of Quebec filmmaker Chloé Robichaud.
What else has hit your list recently?