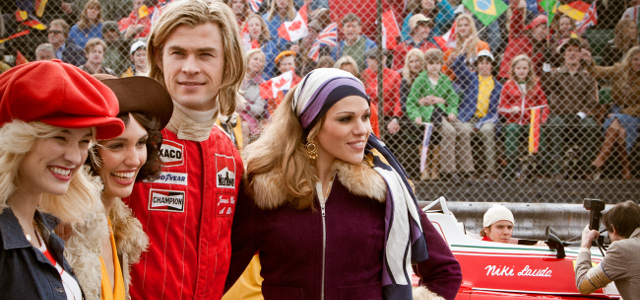 Note. I haven't included the Canadian film announcements that happened a couple days ago in this list, I will be posting an update as we get closer to TIFF. See all the films playing at TIFF 2013 here. And Check out The Matinee for some great TIFF news coverage as time goes by.
I'm happy that this year I'll be returning to Toronto in September to cover the Toronto International Film Festival again. It'll be a very different kind of coverage to last year, as my brother and TUMP co-host, Douglas, will be joining me and I'll probably be doing a lot of interesting podcasting/whatever kind of coverage with him as well as trying to do some more weird persepective posts that I wouldn't dare deem to call traditional reviews. Or at least, that's what I'm planning in my head right now.
The biggest problem with going to this kind of a festival is that there are so many films to watch and so few spaces to watch them in. Also it's always very hard to track which films will still be on my radar coming to the beginning of the festival vs. during all of the announcements.
As of right now probably just under half I feel of the films that will end up playing at the festival have been announced. I've done my first run through of titles — and watched a decent amount of trailers — and would like to take a second to mention some films that if this were the final list of films I would put on my must see list:
Rush (dir. Ron Howard)
Formula 1 racing with Chris Hemsworth by Ron Howard. I know there are a good amount of skeptics to this title but I'm honestly looking forward to this one.
12 Years a Slave (dir. Steve McQueen)
While Hunger was a tough film for me, Shame was one of my favourite films of that year. I can't wait to see what McQueen has up next for us.
All is By My Side (dir. John Ridley)
This is a film I've been hearing about for about 5+ years now with Andre Benjamin begging to do. I have no idea whether it'll be good or not but if I could pick one person to play Jimi Hendrix it would be Andre Benjamin, he just seems right.
Blue Is the Warmest Color (dir. Abdellatif Kechiche)
There's not that many chances I would get a chance to see a Pam d'Or winner theatrically and I'm definitely going to take this opportunity to do that with this controversial film.
Don Jon (dir. Joseph Gordon-Levitt)
We've all become big Jo-Go (aka. COBRA!!!!) fans over the last deccade, here he is directing his first film. Let's see what it turns out to be.
The Double (dir. Richard Ayoade)
Richard Ayoade is that weird guy from the British The IT Crowd, and he directed Submarine — a film I wasn't a big fan of — however I do find the idea for this movie interesting. A dopleganger shows up in your life and starts outshining you to the point of making you redundant, show me sir. show me.
Gravity (dir. Alfonso Cuaran)
Alfonso Curan (Children of Men) can take my money anyday on anything. Let's get this gargantuan 3D film with Clooney and Bullock lost in space on!
Labor Day (dir. Jason Reitman)
Jason Reitman (Up In the Air, Young Adult, Juno) is a perfect filmmaker thusfar and I can't wait to see what he has for us next. I don't know the story, I don't know the cast, I don't even know if it's an actual film or he's just punking us, let's see.
Like Father, Like Son (dir. Hirokazu Kore-Eda)
I've seen way too many people proclaim their love for Kore-Eda that I feel a need to finally watch a film of his. Maybe this'll turn out like last year's experiment with Hong Sang-Soo, one of my few walk outs last year, but I'm going to make a bet here and say I won't.
Only Lovers Left Alive (dir. Jim Jarmusch)
While Jim Jarmusch and I are not the best of friends when you cast Tom Hiddleston and Tilda Swinton in a vampire love story I'm down.
Visitors (dir. Godfrey Reggio)
I have no idea who this director is or what this movie is about. I have this on my list for one reason and one reason only. It's going to be presented by Steven Soderbergh and I don't think I could be allowed to miss out on the opportunity to get to see this great filmmaker in person. If I can manage to get an interview out of it I don't know how I would be able to contain my fandom.
The Dog (dir. Allison Berg, Frank Keraudren)
This is a documentary about the story that we say in Sidney Lumet's Dog Day Afternoon. The only difference is it seems to be told completely from the point of view of the character that was Pacino's lover. I'm interested to say the least.
Finding Vivian Maier (dir. John Maloof, Charlie Siskel)
In the age of digital photography everyone's an artist. With technology so cheap it's so easy to grab a camera and dig into the hobby. What about someone when it wasn't so easy doing it and doing it for themselves to the point where people discover their work years later and say, "hey that's really good". That's this film and I'm interested in where it takes me.
The Unknown Known (dir. Errol Morris)
Honestly due to the topic I don't know how interesting this documentary will be, but I want to put my trust in Errol Morris in finding fascinating stories to share with me.
The Fake (dir. Yeon Sangho)
Other than this film being from South Korea — a nation of cinema I'm more and more intrigued with recently — I don't really know why this is hitting the shortlist. Something about the synopsis…
a blistering critique of organized religion, set in a rural village where a manipulative church minister schemes to defraud his flock.
…kind of just hit my fancy and it's low on the list, but on it nonetheless.
Horns (dir. Alexandre Aja)
If the picture of Harry Potter with horns didn't get me then the idea physical manifestations of supposed guilt, or is it actual guilt?, kind of sounds cool. Helps that Alexandre Aja doing another movie sounds like fun to me.
All Cheerleaders Die (dir. Lucky McKee & Chris Siverston)
Now to the more risky films that I'm not sure of anything other than I may have a great time. One of the highlights of last year's TIFF was hitting up the Midnight Madness and seeing the exhuberant crowds and I can't wait to repeat that. So here's what I call the roullette of cinematic insanity that I'm taking with myself.
R100 (dir. Hitoshi Matsumoto)
A little less roulette and a little more selective I have to add this Japanese piece of wierd for my enjoyment. When a team of dominatrix women hunt down a man (for what reason I can't rememeber) in this action/comedy/? I'm down.
What's hit your to see list so far?