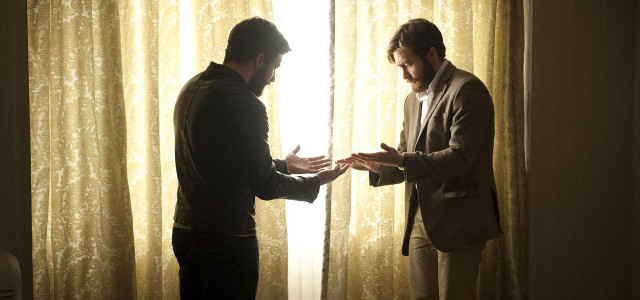 Enemy is a film that I feel is something that requires many viewings in order to walk away from it with more than a feeling. Many people are going to go into this movie hoping for either The Double fun of the doppelganger or Fight Club level of crazed uncertainty that is clearly defined somewhere later down the like; however we are forced to reside somewhere between these two variations of this story and it'll lose people. It lost me a few times.
I've written previously on my evolution of thought on the idea of knowing what the meaning of film is; and here is the movie that starts the mental debate all over again for me. As I sit there entranced by Villeneuve's style and focus on Adam and Anthony's (Jake Gyllenhaal) reaction to this doppelganger, I find myself searching for that meaning and becoming even more interested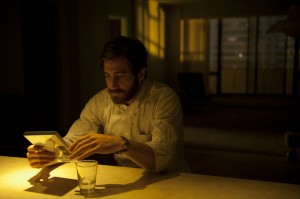 as it doesn't appear to me after the credits begin to roll. I start to demand myself to find a meaning for the film, to understand what it wanted to say about how we perceive ourselves or something else.
This has led me to a further point in the discussion of understanding movies that I don't quite always get. It's one thing for a film to mean something, and it's another thing entirely for the film not to care whether you know that or not. Enemy is a film that feels unwilling to share itself with us just as Anthony is unwilling to truly admit anything about himself to Adam that's anything other than on the surface. He doesn't walk up to Adam with open arms telling him tales of when he was young looking for meaning, as much as Adam when he finally meets Anthony (what he was pushing to happen) immediately shuts down and walks away from it all. It's distant in a way that many films can't quite pull off; but it does.
As the film reaches it's climax the film throws more than the odd wrench in the middle of it all. The film continues along the line of refusing to stay within one definitely decision as to whether what we're seeing is true in any sense and asks us to question everything as such. The film however doesn't truly aide us in asking the correct questions.
If you're in the mood for some dark moody filmmaking that draws you in regardless of how you'll feel at the end then Enemy is the film for you. Otherwise stay far and trying not to get addicted to the every lasting Kool-Aid that will be consumed on forums and other places with this latest piece of weird.
What do you think of Enemy?