This is a repost from my Yule-Tide-Marathon which was first posted on 22/12/09. 
 Less than a couple of months ago I headed out to the theatre to catch Robert Zemeckis' straight up remake of this classic Charles Dickens' story and I said in my review how banal the story had become.  However, with the use of some simple narration through the characters of Charles Dickens (Gonzo) and his audience [Rizzo the Rat] as well as making the story into somewhat of a musical Jim Henson made ease of making the film less about hitting all of the already well known plot points and more about entertainment and allowing its audience to enjoy the film.

I've always been a fan of the muppets and always saddened at how they've lost their place in the now pop culture makes me slightly sad.  I guess we've replaced them with the other things, like Pixar films or something but it still isn't the same.  Still to this day I think about Forgetting Sarah Marshall and how Jason Segel used the puppets to make his Dracula Musical and hope he is able to somehow make his (what I can only guess is) deep passion for the muppets style puppetry come back and it would even better if it was the full Dracula musical.  Going back over a decade and watching Jim Henson revisit this classic tale felt so therapeutic for me.  All those problems I mentioned in my A Christmas Carol review have been carefully fixed here by the use of introducing some great musical numbers and having muppet humour through the many characters from Bob Cratchit (Kermit the Frog) and the Ghost of Christmas Present.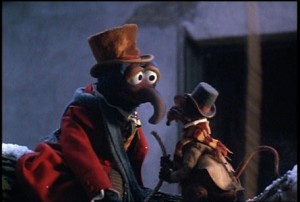 So let me not lie to you, yes it is pretty much the same movie as all the other Christmas Carol films and TV specials you've seen.  Except this one you can probably get your five-year-old to sit through without complaining.  Jim Henson's puppetry is just fun to watch on screen and the characters are great.  You can't help but feel a sense of warmth watching characters like Beeker appear and just fill your heart with Christmas joy trying to get some coin out of Scrooge's (Michael Caine) hand and seeing him make those funny noises he always makes as he becomes frightened by this miser.
It's interesting that Scrooge is played by Michael Caine because he seems so odd a choice as probably the least grumpy of the entire Scrooge's I've ever seen.  It felt more like he was working too hard to disguise the fact that he knew he was going to be merry in the end and you could see it in his eyes, unlike other iterations of the character.
In the end this movie is a good iteration of the classic tale but in the end another iteration that we will probably watch only as a starter kit for the children in the house so that they can hear the story and then maybe later in life they'll search out the classic version from the 30s for their all important film education.
Rating: 7.0/10