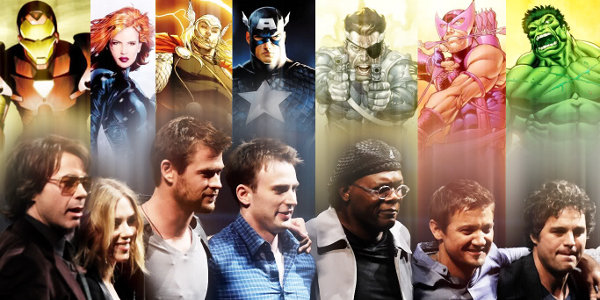 This weekend I, along with the USA, will finally get a chance to see Joss Whedon's Avengers film. This movie has been four years in the making with Marvel Studios, recently acquired by Disney, deciding to invest millions of dollars to introduce a mass audience to each of the members of the Avengers team with their own individual films, all of which you can find my initial reviews for on this site.
I decided this past week to revisit all of these films to see how they stack up in preparation for the convergence.
Iron Man (2008) (dir. Jon Favreau)

At first I used to like to joke that Tony Stark is nothing more than a spoiled boy with too much money and toys. Rewatching the film it made me realize that while that previous statement may be true to some extent, the film succeeds emphatically in giving some great character motivation for Tony Stark to want more responsibility in his life. He's spent his entire life being a character for the cameras to help sell his wares and not ask too many questions, but when he finds out the hard way that things aren't going the way he thought he takes it upon himself to set things right, even with a little Black Sabbath playing in the background.
I still find a lot of the Obadiah Stane (Jeff Bridges) arc to be a bit to hamfisted, but on a whole the film works in setting up Stark for this bigger than life character.
The Incredible Hulk (2008) (dir. Louis Leterrier)

Here's one of the film's that I've always held a special place in my heart. After the failed outing of the Hulk in the 2003 Ang Lee feature, Leterrier decides to make a much more upbeat reboot, which in all honesty can be seen more as an episode. Thanks to a ridiculously quick one minute introduction to the world where gamma rays make people big and green we are allowed to jump right into the "off the grid" life of Bruce Banner and make a much stronger connection with him as a character when he's being hunted by the US Military.
Hulk's character is one of much complexity. On the surface the character of Banner/Hulk acts as a parallel to that of Dr. Jekyl and Mr. Hyde, but at the same time it shows how powerful and frail humanity is at its core. We're all "primal" creatures, or so some psych majors would have you think, but even in those moments where the Hulk is free you can see the most gentle gestures being made, like when he and Betty are in that cave in the rain and he's just slowly reaching in to get away from the environment around him.
The film on a whole is a vast improvement, and before this round of revisits was my favourite Marvel/Avenger movie.
Iron Man 2 (2010) (dir. Jon Favreau)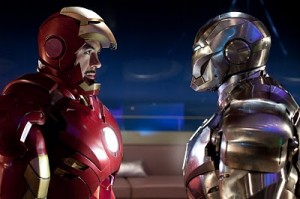 Is here where the "I was wrong" apologies begin? When the film was first released I reviewed the film to an astoundingly positive rating. To this date I've now seen the film four times, and while I admit that the film is full of a lot of ridiculously horrendous aspects, I do still like it for a lot of silly things.
I wouldn't change this movie if it meant I didn't get to see Sam Rockwell as Justin Hammer dancing on that stage and acting across from Mickey Rourke, who while playing a horribly written role – just like he did in The Immortals – I still enjoyed how he managed to deliver his character in the few scenes he got to take center stage (minus the opening moments in Russia), or the Monaco scene (once again credit to explosions), or even the crazy moments with Pepper and Stark. On the other hand I could deal without the overt nature of the Avenger presence, Tony Stark showing me that triangles are better than circles with "it tastes like metal", and the ridiculously stupid end to an uneventful boss battle where I personally imagine being played in slow motion with Enrique Iglesias' Hero playing.
Easily the worst Marvel/Avenger film of the lot and I can only hope that Iron Man 3, with Shane Black at the helm, will turn out a lot better.
Thor (2011) (dir. Kenneth Branagh)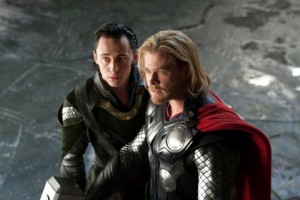 Here is a movie that I worried about the most of all the Avengers. How does one take a god and make him actually more human than any of the superheroes we have in this group? Well I guess making Anthony Hopkins his father helps a lot.
Thor is one of those movies which bothers on the silly a lot, the running gag of him being knocked out everytime he says his name for the first hour of the film after reaching Earth, and his general demeanor in a real world setting works well as comedic magic. A lot of the characters on the fringes of the story – Natalie Portman, Kat Dennings and Stellan Skarsgard – all come off as completely useless and exist just to help Thor get from point A to point B, geographically, in most parts of the film. I know they propose the idea of Thor falling in love with humanity, and more specifically Natalie Portman, but I don't truly think that the movie showed that in any way.
Removing that from the equation I do believe that Loki (Tom Hiddleston) manages to be the best of the Avenger villains. We have a great brother rivalry and his back handed tricks allows for a different kind of problem for our hero, which he can't just hammer his way out of – even though he technically does.
It's heart makes up for the silly in spades, and the likes of Tom Hiddleston, Anthony Hopkins and Idris Elba also do their own fair share of heavy lifting.
Captain America: The First Avenger (2011) (dir. Joe Johnston)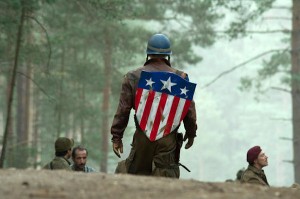 The leader of our Scooby gang finally decides to check in for our benefit and how wrong could I ever be. I criticized this film of resorting to easiness way too quickly and I apologize.
The first time I saw this movie I was completely with it until the end of the scene where Rogers brings back all the soldiers from his rescue behind enemy lines. At that point the movie was still perfect. Then he officially becomes Captain America and goes raining a fiery hell on Red Skull's plans to take over the world. I was too preoccupied with the fact that the film at that point shifted from a character development piece to a pure action film. Somehow this time around the transition didn't bother me that much.
I do also remember complaining about the representation of the action in the film and revisiting the film on bluray (in 2D) I didn't have any of those problems I previously expressed, which allows me the opportunity to push all the blame on 3D conversion – a complaint I hope not to have while watching Avengers – and keep some form of dignity.
Otherwise this movie was perfect. It gave me the right blend of character, fun and action. Everytime the film paused to give Tommy Lee Jones a moment it was always worth it no matter how inconclusive he was. Joe Johnston knocked it out of the park with the visual look and feel of the film, and I even like how that disappears completely for the ending scene of the film where he is officially recruited into the initiative.
What's Your Favourite of the Marvel/Avenger Films?