It's already the second month of 2012 and here we are talking about DVDs again… I'll pretend like I did a real introduction that felt insightful and entertaining and move right into things:
Buy It:
A Very Harold and Kumar Christmas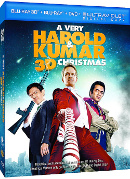 Directed by: Todd Strauss-Schulson
Written by: Jon Hurwitz & Hayden Schlossberg
Starring: Kal Penn, John Cho & Neil Patrick Harris
Why should you buy it? Because next Christmas you're going to be looking for that perfect film that you can watch after revisiting Bad Santa for the billionth time, and here it is. It's crude, loud, weed induced and cameo/pop-culture reference filled madness all around Christmas and it's great. It's a return to form for the franchise to it's low-fi enjoyability with it's very own madness that it introduced near a decade ago with the first film's release.
Read my full review here.
Project Nim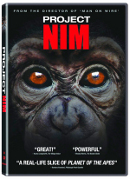 Directed by: James Marsh
Starring: Bob Angelini, Nim & Bern Cohen
Why should you buy it? Because it's the real, more awesome, Rise of the Planet of the Apes, without the awesome ending that is.
Over the years I've become more and more a fan of documentaries and this film doesn't fail to deliver a series of questions, answers and thoughts for us all to ponder on about what the relevance and use of such testing is and if the pros of the research outweigh the cons of the emotional devastation that we end up inflicting on these creatures by doing these things to them, no mater how "humane" they seem.
A Fish Called Wanda (Blu Ray)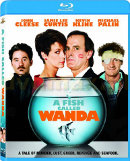 Directed by: Charles Chricton
Written by: John Cleese & Charlese Chricton
Starring: John Cleese, Kevin Kline & Jamie Lee Curtis
Why should you buy it? "K-K-K-K-K-KEN!!!" and "can you repeat the middle part". This is British comedy at it's best when it was finding ways to reach into American culture. The quick wit and the dumb drum of Cleese and Kline respectively with a nonsensical romantic plot of the diamond thief and the barister (we're in England man) just works so well and Cleese's writing shows to be the true star of the film. If you've never seen it it's time to catch up.
The Rest
The Twilight Saga: Breaking Dawn – Part 1
Masterpiece Classic: Downtown Abbey Season 2
Father Dowling Mysteries: The First Season
Anonymous
New Tricks: Season 6
The Sunset Limited
Fireflies in th e Garden
Blu Ray
Lady and the Tramp
Casino Royale (1967)
It's a Mad Mad Mad Mad World
La Jetee/Sans Soliel (Criterion Collection)
What're You Getting This Week?