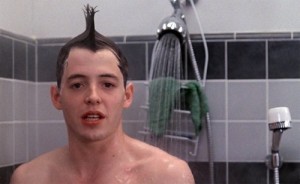 Movies are funny things. Most set out with a singular goal, one point that it wants to make, but every once in a while a film finds reason (and sometimes it does so without one) to take pause and divert from its initial idea to just sit there and take a breath. I can say that while this can have a jarring effect in the hands of a wasteful artist, nine times out of ten it's something that I enjoy seeing most in films.
Like Ferris says, "Life moves pretty fast. If you don't stop and look around once in a while, you could miss it," and he's not wrong.
Here're some of my favourite examples of what I call "Music in the Middle":
Almost Famous (2000)

Easy A (2010)

Ferris Bueller's Day Off (1986)

Top Gun (1986)

What're some of yours?
Tagged as: Almost Famous, Easy A, Ferris Bueller's Day Off, Top Gun