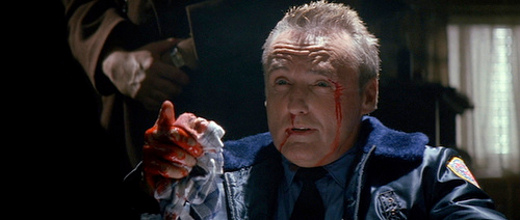 Here's the new post where I share with you some of my favourite scenes from some of my favourite movies.  Enjoy:
With the news of Dennis Hopper's death I decided to feel nostalgic.  I've seen him in a lot of movies and even though I know I've yet to see enough of his most famous films to definitely say that I knew him as an actor.  He always knew how to get into the depth of despair and anger whenever he needed on screen.  Check out one of the definite stand out moments from 1993 Tony Scott film, True Romance:

I'm a massive Tarantino fan (as I'm sure you all know).  It turns out that Quentin Tarantino wrote the screenplay for this movie.  What I love most about Tarantino is his writing and how he can so brilliantly create a scene with his effervescent dialogue.  With Christopher Walken and Dennis Hopper in this interrogation scene it's just brilliant from end to end.  You get the speech about the pantomime and then about Silicians and the Moores.  Now I have no idea as to if the story about the Moores in Sicily has any historical fact to it, but I still love the dialogue and the delivery from the great Dennis Hopper.
Tagged as: Christopher Walken, dennis hopper, Fav Scenes, Quentin Taratino, Tony Scott, True Romance