Another week and another opportunity to not save for that rainy day that I pretend isn't very important in life. Check out this week's DVD selections:
Buy It:
We Need to Talk About Kevin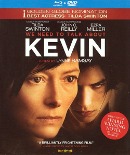 Directed by: Lynne Ramsey
Written by: Lynne Ramsey & Rory Kinnear
Starring: Tilda Swinton, Ezra Miller & John C. Reilly
Why should you buy it? It's one of the best horror films that doesn't have just blood and guts spilling out of it for ninety minutes the have been released in the last two decades.
I'm going to go ahead and assume you've met a few assholes in your life. Well did you ever wonder, "how did your mum put up with you?" well this movie is exactly that, with a bit of the answer you weren't looking for. We like to try and blame the parents for how the child turned out but every so often the child just turns out to be a through and through shit and nothing can stop it from happening. This is a film about a mother having to cope with the fact that she birthed the spawn of the devil and doesn't know how to move on.
Rent It:
Rookie Blue: The Complete Second Season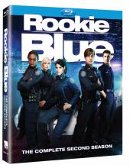 Created by: Tassie Cameron, Morwyn Brebner & Ellen Vanstone
Starring: Missy Peregrym, Gregory Smith & Enuka Okuma
Why should you rent it? Ok, I don't have that great a reason. But this is a show scheduled for a summer time slot and this is when all the regular shows are over and no matter how bad this show gets week to week I keep watching it. Filled with melodramatic storylines and high school level romances it's easy to refuse this show the time of day, and they probably should, but I still watch it.
I still say I don't know how this is in it's third season and Chicago Code, Terriers and Awake all got cancelled after only one season each. There's no justice in TV world.
Skip It:
Goon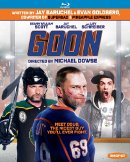 Directed by: Micheal Dowse
Written by: Jay Baruchel & Evan Goldberg
Starring: Seann William Scott, Jay Baruchel & Alisson Pill
Why should you avoid this? It's a film which uses violence as the crux of it's emotional and comedy beats in a way that end up just making me question what these writers thought was really funny and heartwarming. I know I'm not the best to judge, as I've never watched one real game of hockey, but based on my film knowledge it's just guys beating each other up over and over again while wearing ice skates. The acceptance of intentional violence in this sport just confounds me and I find it neither funny nor heartwarming watching these characters bleed over and over again.
True Blood: The Complete Fourth Season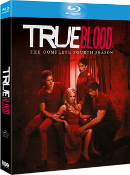 Created by: Alan Ball
Starring: Anna Paquin, Stephen Moyer & Sam Trammell
Why should you avoid this? This show officially jumped the shark, or in this case got some witches (I want to copyright that phrase right now). I started watching this show with hope of not only enjoying some campy vampire intermingling/violent fun, but also to have some fun and smart social commentary on the outcasts of society. Slowly but surely since Season 1 the show has stepped away from that in order to service to HBO fanboys who just want more blood and nudity, I'm sure they can afford Cinemax, and decided to leave no stone unturned in the fantastical land of mystical beings and all it does is clutter the show in every which way.
The Rest
Maverick: The Complete First Season
Man on a Ledge
Coriolanus
Gone
Memorial Day
Blu Ray
Summer Interlude (The Criterion Collection)
Summer With Monika (Criterion Collection)
Outlaw Josey Wales
Strange Love of Martha Ivers
What're You Getting This Week?
Tagged as: DVD Picks of the Week, Goon, Rookie Blue, True Blood, We Need to Talk About Kevin