A relatively unneventful week at the DVD store means empty lines and lots of extra cash left over for the donut man around the corner. Take a look at this week's pickings.
Buy It:
Castle in the Sky (Blu Ray)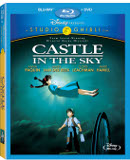 Directed by: Hayao Miyazaki
Written by: Hayao Miyazaki
Why should you buy this? Well, let's start with: it's fantastic. Hayao Miyazaki is one of my favourite directors who when his name is called I say yes everytime. His imagination is unmatched in the world of animation, no, better yet, cinema.
The film deals with a young boy and girl who go in search of a castle in the sky, simple enough you'd think. Along the way there're chase scenes, pirating, and government spies. It's everything you'd want in a family film.
Rent It:
This Means War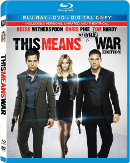 Directed by: McG
Written by: Timothy Dowling & Simon Kinberg
Starring: Chris Pine, Tom Hardy & Reese Witherspoon
Why should you rent it? Because every so often you need to mix up the action and horror films with something she might like, and while this movie isn't devoid of bad – I point at you Reese Witherspoon – it has enough fun moments to keep you entertained. Hardy and Pine have the charisma to make even the most ridiculous and boring romantic scenes fun with them constantly snooping and sabotaging each others' ideas.
It's fun and that's all I can say to that.
Read full review here.
Skip It:
Perfect Sense


Directed by: David Mackenzie
Written by: Fim Fupz Aakeson
Starring: Eva Green & Ewan McGregor
Why should you skip it? It's not very good. It's sold as a romantic film, but in truth it's a horror/apocalyptic movie. In this present day drama you mix in the bag of crazy the idea of people gradually losing their senses one at a time without knowing when or how it happens. The mere fright of that idea being a person's reality is insane. So considering the fact that we're to buy this romance happening while this is all going on is just too distracting away from one film or the other.
The Rest
Sherlock: Season Two
Red Tails
The Woman in Black
The Secret World of Arrietty
Rizzoli & Isles: The Complete Second Season
Blu Ray
Whispter of the Heart
What're You Getting?
Tagged as: Castle in the Sky, DVD Picks of the Week, Perfect Sense, This Means War