It's Tuesday, which means it's time to take a look at what hits DVD/Blu Ray.
Buy It:
Breaking Bad: The Complete Fourth Season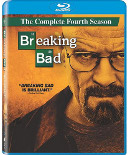 Created by: Vince Gilligan
Starring: Bryan Cranston, Aaron Paul, Dean Norris, Bob Odenkirk, Jonathan Banks & Giancario Esposito
Why should you buy it? Because it's pretty much one of the best shows on TV today and we're about to begin the first half of the last season of the show. If you've yet to see an episode I urge you to watch it, either by buying the DVDs, renting them, or even watching them on Netflix Instant (I believe there're all there). This show is so fantastically brilliant. It manages to create pulp goodness that I doubt even Tarantino could manage to sustain over this long a period of time and I can't wait to see what the showrunner has in store for us with his finale.
Just remember guys, "no half measures".
Rent It:
Burn Notice: The Complete Fifth Season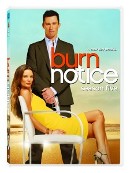 Created by: Matt Nix
Starring: Jeffrey Donovan, Gabrielle Anwar, Bruce Campbell & Sharon Gless
Why should you rent it? I feel this is a show that I'm plugging for the same reason year in year out. It's a great fun procedural of an ex-CIA agent being all sorts of badass and having some of the worst acting skills ever all under a less than cable station budget. It's not going to be winning any Emmy's, but it's the kind of show that gets you through the summer season drought of truly great prime time television. You definitely don't need to see every episode for maximum satisfaction. Season six starts soon.
John Carter

Directed by: Andrew Stanton
Written by: Andrew Stanton & Mark Andrews
Starring: Taylor Kitsch, Lynn Collins, Willem Dafoe & Mark Strong
Why should you rent it? I feel this is a film which truly got a bad hand dealt to it. Somehow when it was being released no one could find anything to talk about other than the budget behind it, and when the people decided that wasn't a good enough reason to go (it isn't) then all they could talk about was how much money it lost Disney. It's sad. Movies aren't all about the economics, they're about the story, and I don't think this movie is a bad movie or even a bad story. Yes there are a few moments of highly questionable logic, but I don't see this movie as any better/worse than Avatar, the film that broke every record in the planet, got an Academy Award and we only now (in very slight whispers) start to take the film's plot structure apart, but still praising it's good parts. This movie has just as much good and bad to it and I hope people get a chance to see that now on Blu Ray.
Read my full review here.
Skip It:
Safe House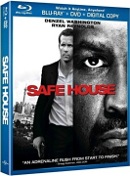 Directed by: Daniel Espinosa
Written by: David Guggenheim
Starring: Ryan Reynolds & Denzel Washington
Why should you skip this? It's a mindless action movie with very little action to it. It actually is better classified as a horrible thriller about a CIA house keeper who happens upon a special house guest and happens to lead him onto some corruption going on within the CIA. It's all cat an mouse with the action/chase sequence sprinkled in here and there, but none of it is either interesting or appealing. It's rather an exercise in how long I can stay awake while Denzel does the least work possible to act Reynolds under the table in every scene.
Read my full review here.
The Rest
Act of Valor
White Collar: Season Three
Journey 2: The Mysterious Island
Curb Your Enthusiasm: The Complete Eight Season
Workaholics: Seasons 1 & 2
Pretty Little Liars: The Complete Second Season
In Plain Sight: Season Four
Falling Skies: The Complete First Season
Machine Gun Preacher
Blu Ray
Yellow Submarine
The Sting
Hondo
Smokey And the Bandit
The Color of Money
U.S. Marshals
What're You Getting This Week?
Tagged as: Breaking Bad, Burn Notice, DVD Picks of the Week, John Carter, Safe House