FINALLY!!! Finally a week where I want to go to the theatre. So here's a week of sweet:
Horrible Bosses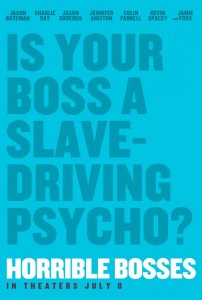 Directed by: Seth Gordon
Written by: Michael Markowitz & John Francis Daley
Starring: Jason Bateman, Jason Sudekis, Charlie Day, Kevin Spacey, Colin Farrell, Jennifer Aniston & Jamie Foxx
Synopsis: Three friends conspire to murder their awful bosses when they realize they are standing in the way of their happiness.
My Thought: It looks funny. I've been reading a few mixed reviews though and I'm not sure whether I should be banking it on how much I love Charlie Day. I mean I'm also looking forward to Colin Farrell as what seems like a truly horrible boss, but the truth of the matter is that I feel that this may turn out to be the Hall Pass of the summer.
Might be worth a Saturday afternoon, but it'll all be dependent on my mood on the day and such.
Harry Potter and The Deathly Hallows Part II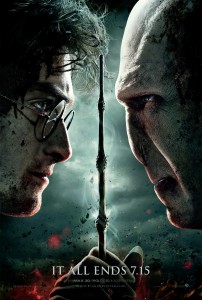 Directed by: David Yates
Written by: Steve Kloves & J.K. Rowling
Starring: Daniel Radcliffe, Emma Watson & Rupert Grint
Synopsis: The final chapter begins as Harry, Ron, and Hermione continue their quest of finding and destroying the Dark Lord's three remaining Horcruxes, the magical items responsible for his immortality. But as the mystical Deathly Hallows are uncovered, and Voldemort finds out about their mission, the biggest battle begins and life as they know it will never be the same again.
My Thoughts? Why am I thinking? This is a must see film. While I wanted to get to see the movie in 3D I doubt that's going to happen. I've invested a decade of fandom into this franchise, finally I'm going to get the proverbial "money shot" with the final battle between Voldermort and Harry. I can't wait to hear all the "the books are better" bitchings after the final movie is out. I haven't read the books, but I feel like this will be the final straw for a lot of the die hard bookworms out there.
What're you seeing this week?