October Horror and My Personal Movie Traditions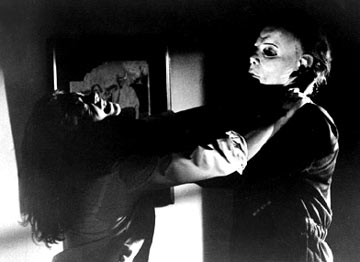 It's an odd thing to mention but traditions can be comforting and questionable all at the same time. To many October is just another month of the year. However, to others it's the mark that in another thirty days is Halloween, a very Americanized holiday.
As a child, especially one such as myself who spent hours on end watching TV (more importantly, American TV), I would see TV turn into a 24-hour long horror programming for the month of October and be perplexed. I understood the idea of Halloween the same way I understood all other parts of American culture, through TV. The only problem was that I couldn't understand how when October 31st came around I didn't get to go have fun late at night getting free candy with all of my friends.
As usual I came to realize that this was all just a thing for the crazed Yankees to enjoy and that's it. However, the horror film journey got into me for some reason or another and somehow whenever October rolls around I find it almost required for me to spend some time focusing my movie watching efforts on horror; a genre that for the most part I don't enjoy that much.
This isn't my only tradition. Generally come hell or high water I have three other traditions that I abide by:  always go and see a new release at the theatre on my birthday, whenever I'm on a holiday I must see a movie at the theatre on the last day of my break, and when the end of a year comes around I will do a marathon of films for the year in question for catch up, but the cap it off I end with one of the most panned film of the year that I've yet to see just before the New Year is around. These are all completely arbitrary but for some reason I've grown to love these traditions and when I fail to honour them I feel somewhat lost in my world of cinema.
Last year I watched for the very first time The Invasion of the Body Snatchers (1978); the year prior I saw Halloween (1978) for the first time. This year I've planned out five horror classics that I've yet to see and I'm three down with two more to go and even outside of that I'm knocking off a horror film here and there. I've even gotten more classic recommendations which I'm considering for my Halloween night extravaganza (which will be small regardless thanks to me having a job and such).
Regardless of where these odd rituals come from they exist and they do their best to define a little bit of who you are. For me it proves how much of a movie nerd I really am, and even though I tend to pan horror films (especially those new releases) I still push myself to find those gems that my exist out there.
Let me know what your Movie Traditions are?