Movies You Love: Andrew James from Row Three – A Clockwork Orange (1971)

Inspired by Robert K. Elder's book (
The Film That Changed My Life
) I thought it would be fun to take that very idea and point that question in the direction of fellow bloggers and cinema enthusiasts such as myself and see what the result ends up being. This time around Andrew James, of
RowThree
and
@Andrew_James
, joins me to discuss Stanley Kubrick's
A Clockwork Orange
. My relationship with
Stanley Kubrick
and his film
A Clockwork Orange
has been one of mutual respect and nightmares. It's taken me near eight years of movie watching to be able to sit through this film without needing the same treatment that McDowell himself had done to him in the procedure. I'm actually happy that this interview forced me to rewatch the film because I found a lot more to love this time around. Anyways hope you enjoy the interview below:
Me:
Well, tell me about the first time you actually saw this film.
A. James:
The first time I saw
A Clockwork Orange
I was over at a friend's house, I was about fourteen years old, maybe fifteen, and I was just sleeping over and we were looking for a movie to watch and we're going through all the usual suspects: the John Hughes' and Vacation and all this stuff and then his Dad comes down and says, "you guys want to see something really crazy? Something you've never seen before." We we're like, "I don't know old man. I don't know if we want to watch your kind of stuff, but, alright sure. Show us something
CRAZY
," and he's like, "it's called
A Clockwork Orange
, it's from the early 70s, I think you guys will love it." He popped it in, and we watched the thing, and I was mesmerized. I was actually really surprised that I liked it so much, because up until that point, for the most part, I was into just mainstream blockbuster type stuff; the Steven Spielbergs, the Robert Zemeckis or John Hughes, like I said. So all of a sudden there's this thing that I've never seen anything like it before. I watched it and just went, "WOW. You can do this?" I think from there that is what just made me branch out to other things.
Me:
You said that at that age you were watching a lot of "blockbusters" like John Hughes and such, did you come from a home where you were restricted in your movie watching?
A. James
: Not at that age. In fact, when I was a kid we had Showtime and HBO, which showed all the movies and my mom was a little bit strict on stuff, but she couldn't watch me all the time. I saw some horror movies and I saw some John Carpenter stuff and whatnot. For the most part though, I wasn't quite interested in anything that was remotely art house I guess. I always thought that foreign films were stuffy boring dramas and had not interest. I watched a lot of stuff, just most of it was really fantastical or action.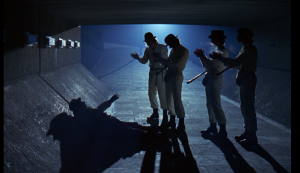 Me
: Getting onto the ultra-violence of this film, being a sticking point with a lot of people. The way that Kubrick, not necessarily, glorifies violence, sex and youth overtaking age in the film, especially with that early scene with the bum under the tunnel. You say you were mesmerized by this film. Did that sort of imagery help or hurt at all?
A. James
: Definitely. That was the first time I had seen violence and sex played for, I hesitate to say, comedy, but definitely like in a humourous way. At the same time though it's very brutal and hard to stomach and I think that is what was so great about it, because I felt uncomfortable watching this stuff, but at the same time it was thrilling andyou have a smile on your face. There's that really intense rape scene where they go in and beat up an old guy and rape his wife but the whole time he's singing
Signin' In The Rain
and kicking the guy, in rhythm, and they're dressed up in these crazy costumes. It's this thing where you're disgusted but you just can't look away because it's so surreal. I still think that's one of the greatest sex scenes ever with this sped up William Tell overture and he's got the two girls in his room. Not only that, but there's other nudity. Malcolm McDowell is naked a couple of times, where you 'see' stuff, and the jail warden sticks a flashlight up his butthole and you're watching this and for me that was all new stuff that I had never seen before. Me:  You said you watched it for the first time when you were fourteen years old. I'm going to make a leap and assume that you didn't get all of the nuances of the story at that point in your life.
A. James
: Probably not.  I'm thirty-six now. I feel like everytime I watch it I gather something new from it. At the time though I was more shocked than anything else. Not that the movie is that shocking, especially today. If a kid who's fourteen today who's seen everything on the internet then watches this he might not be shocked, but I was. I had just watched
Back to the Future.
I'd seen some brutal stuff, sure, but it was like
The Beastmaster
and stuff. It was all fantastical and fun. This put a heightened realism on everything that was just really intense. Of course there's also all this commentary and Stanley Kubrick is working with the idea of behavioural modification and I'm not sure if I got into all that political stuff and realized exactly everything that was going on, but it was fun just watching it.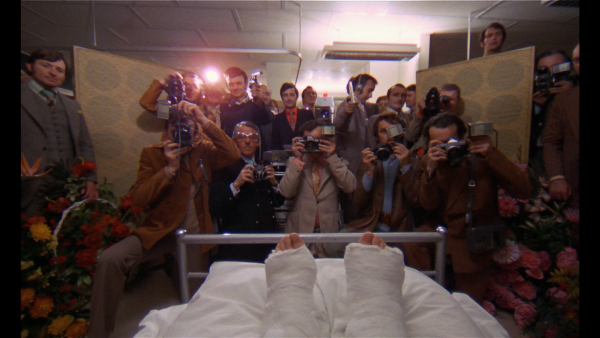 Me
: Looking back on it today what particular aspect on what Kubrick is trying to say, or the author (Anthony Burgess), do you gravitate more to? I personally saw, as you were mentioning, the bit on behavioural modification, and it goes back to the idea of real rehabilitation; what's "truly rehabilitated"? The idea of man and choice and there's even some religious and even violent aspects of the film. What do you think you gravitate most to when you're watching it today?
A. James
: Well, two things. Sort of on a superficial level I still gravitate to the set design, and the props and the characters and the costumes and just the amazing shots, I'm always mesmerized by that. On the other end it always gets me thinking, it is an ethical sort of dilemma or question, when it comes to rehabilitation, prison. I think there was some sort of experiments going on in the 50s where they were actually trying some of these behavioural modifications on prisoners to try and 'fix' them psychologically and I think it's an interesting question if that's a good idea or leading us down a path of Government control over its citizens. It just makes you start thinking about that kind of stuff. Does making Alexander the main character in the film, making him not so violent or so hungry for sex anymore it takes away his humanity and his ability to fend for himself. Is he a better citizen? Probably, like in society. But at what cost? If you do this to one or two people, that's one thing, but if you just start turning everybody into Government controlled zombies is what I think he's sort of trying to get at. That's more than questionable. It's interesting that everytime you watch it you sort of think about that kind of stuff.

Me
: Definitely. The idea of choice being taken away, and even though they're taking away one of the most extreme choices being violence and sex, it's almost like the idea of neutering a dog. Which we have no issue doing, when the thought comes up and people say this needs to be done because the dog is horrendous people don't even bat an eyelash. However, now that we're doing this to this man and even though we already know that this man is a horrible person it still asks the question of whether this is worthy of being done, if it's okay.
A. James
: It literally dehumanizes him. He ends up wanting to kill himself after he's had this modification. He can't even listen to his favourite music anymore, and that kind of goes into another interesting thing about this movie that he is not a good person yet the audience is sort of rooting for him the whole time, you even feel bad for him at the end. When he goes back to his parents and they've founds this other son and they kick him out, you really feel bad for him. It's weird because he's such a negative part of society: raping people, beating people up, stealing and just causing mayhem wherever he goes, it's weird that as an audience you would root for him. That was another first for me. I had never seen an anti-hero before.
Me
: Talking a little bit about the idea of reformation and taking away of choice. Have you ever read the book?
A. James
: No, and that's a shame I absolutely should read the book. Have you read it?
Me
: I haven't, but I know a specific thing to the book. Have you heard of the 21
st
chapter?
A. James
: No, I don't know, maybe, what is it?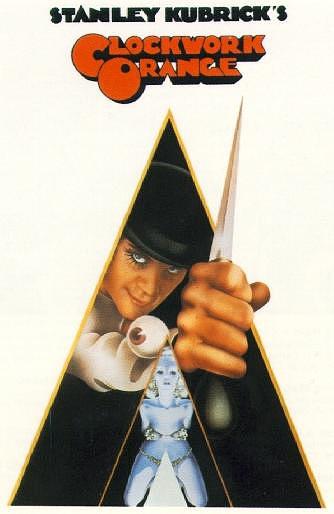 Me
: Apparently when the book was first released it had 21 chapters. Three parts being seven chapters each, covering before prison, prison and after prison. However, the publisher decided to cut the 21
st
chapter from the book for the US release, which is the version that was adapted for the film. The 21
st
chapter however introduces a different element into the film which – if I'm correct – makes the government reversing the procedure on Alexander and he comes around to his own personal decision to no longer be violent or a horrible person anymore, giving a redemptive feel to the character. I was wondering how you would've felt about that being brought into this film, because the film plays it up as blaming the government and society for feeling we need to change these people as opposed to these people being truly rehabilitated.
A. James
: That's interesting, I don't know. In the movie where it ends with him being back to his old self again it's kind of saying that it's better to have people as they are and you have to make the most of who you are as a person. You decided, not machines, or the man. So he sticks with that violence, sort of carefree type of person. I like the movie, I think, the way it is. If he decides the change himself I feel like that is a, I don't want to say, cop out; I like the darker edge I guess. The fact that he makes a decision to be good again, it just doesn't seem believeable, that doesn't seem like who he is. That's interesting. What do you think? Do you like that ending?
Me
: No. Particularly because of my understanding of the philosophy behind what the movie is trying to say. I think though the biggest thing for me is that if that were to have happen it would have basically validated the government's decision to do what they did to him.
A. James
: Right. Because he went through all this stuff and ultimately, even though they physically through surgery brought him back to who he was, that that somehow made him choose to be good. Prison is supposed to be that way. It's supposed to be rehabilitative. It's supposed to make you go back out into society and not make you want to go back into prison again and be good. Obviously that doesn't work though, I mean rarely does that work. However, I like the way it is. I think that ending might be unfair. Like tying up everything in a bow and making the ending all nice and you're right it justifies the government's decisions and procedures and I don't like that.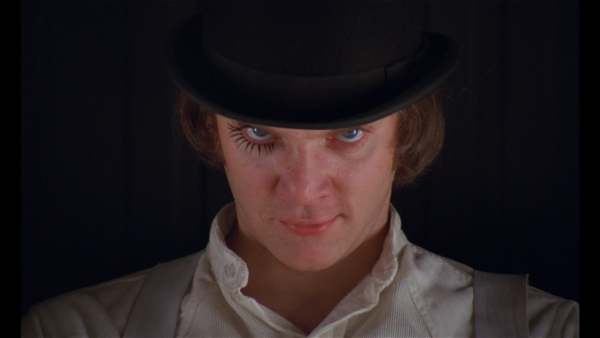 Me
:  There were a couple of things I took note of when I was rewatching the film this last week that seemed kind of interesting to me; first being during the procedure that the scientists were doing on Alexander there was one point in the films he was being forced to watch there was a gang performing rape and violence and they were dressed in the same attire that his gang was. That just seemed really odd to me.
A. James
: Well, that's always seemed odd to me too. I've always thought they sort of knew his past and in the film they dressed up these character for something a little bit more for him to relate to. However, this time watching it, which I did this time around with the Malcolm McDowell commentary, I noticed in the very very opening shot where the camera is pulling away from them sitting in the Corova Milk Bar if you look at the other characters in that bar there are some other gangs they're dressed the same way. In the white outfit with the jockstrap on the outside and a couple of them have top hats. So I feel like it's almost like that's a typical gang attire in this world. I had never noticed that before, but there are like two or three other gangs all dressed in white in groups of four sitting around the milk bar, which I thought was pretty interesting. So maybe in that film they show him that's just typical gang wear.
Me
: I did not notice that this time.
A. James
: That was a first for me as well. Like I said, everytime I watch this movie I gain something new. I love to look in the margins and look off to the sides. Like when he walks through the record store I was trying really hard to pay attention to the top ten list of all the music and I was just looking at the band names and their albums that were out, it's always fun. What was the other thing that you noticed?
Me
: There was this weird scene that talks a lot about society and parenting. It's after his first night of debauchery where he's out raping and such.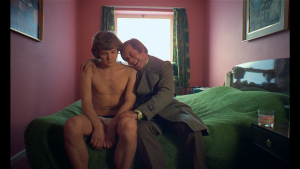 In the morning he tells his mother he's not feeling well and you have this passive sense of parenting happening and it's so slight. When she comes back to the breakfast table she tells her husband that Alexander doesn't feel well and will go to school later and the father just makes an off-handed comment of, "I wonder where he spends all his nights?" It's the first and only time in the film where you see his parents show any form of care as opposed to someone who happens to live in their house.
A. James
: I always found that interesting too, there's a lot going on there I think. First, I think that, even though it's supposed to be the future, I feel like the parents are still conservative like a time from the past and they just love their son and trust that he's out doing what he's supposed to be doing. The father questions that a little bit, but the mom totally trusts everything Alex tells her. They have no oversight at all into what he's doing. They don't seem to care that he has a combination lock to his bedroom door in his house. If I put a padlock on my door as a kid my parents house they would cut it off with a bolt cutter and they'd break down the door to see what I was doing. The other thing I find interesting about the parents on at least two occasions , maybe three, they talk about what's in the papers. They believe everything that's in the newspapers and that's how they related to Alex too. They find out about the bad things he did and they find out about this experimental treatment that he's in and they're just, "ohh that was in the papers" and at the end when they go back and apologize to him they say that they read in the paper that it was all the government's fault and it wasn't you and all of a sudden they love him again. At that point they father says that maybe it was their fault too and you're just thinking, "Yeah. It was your fault, or at least a good chunk of it." Not all parents can control their children, but these parents clearly had no involvement in their son's teenage life. Watching the parents interact, beyond their own ridiculousness with the purple hair and crazy outfits  and the mom always crying and stuff, it's fascinating because I feel they're under Government control just through the media.
Me
: That is totally a possibility. I never thought of the media aspect of it all.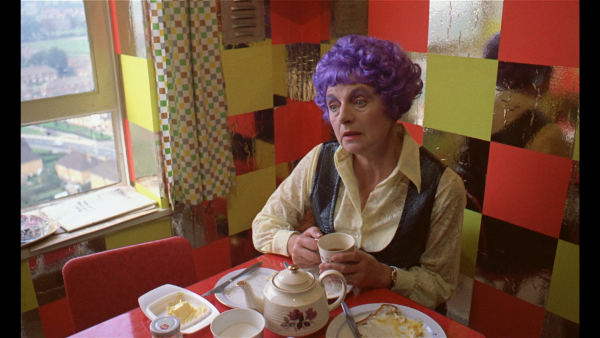 A. James
: The papers are all over the place. The old man, the author, has newspapers all over his desk about Alex and how he was treated. There's even a montage at least once of newspaper headlines coming at you and explaining everything. So I do think there's some media commentary in there as well.
Me
: What do you think about the scene that follows with the school advisor coming over and acting like the real parent of Malcolm McDowell?
A. James
: Well I don't know exactly who he is, if he's a principal at the school or if he's like a truancy officer, but he reminds me of the Gestapo in a way. He just comes in and scares the shit out of him, telling him, "I know what's going on, even if I can't prove it." I don't know. I don't get any real commentary out of it other than they're kind of on to him. That actor, whoever he is, that scene is so funny. It reminds me of the opening scene of
Inglorious Basterds
with Christopher Waltz coming in and has a heart to heart with the guy but at the same time he's just sinister and yet goofy and weird and he already knows everything he just can't quite prove it. It's really fun and really surreal, with the glass of water with the false teeth in them …
Me
: Were there false teeth in there?
A. James
: Yes. It's like his mom's false teeth in that glass of water and he drinks it…
Me
: I remember his reaction but I didn't take note of the teeth.
A. James
: That's why. He even punches Alex in the balls. They're laying on the bed and Alex is just in his whitey tighties and Mr. Deltoid punches him in the testicles to get him point across. It's a great question.
Me
: Two more things I wanted to mention about the film. One being the music, I feel like a lot of the recent films from Lars Von Trier in which he finds a way to use classical music and music we all know and have our own associations with and redefine them with his visual association. You talk about the song during the sped up sex scene, there's also the graduation song with the doctor walking down the prison hallway, and even Beethoven's 9
th
is playing throughout the film over and over again. What did you feel when it came to the music in this film?
A. James
: I love the music. On one hand if it was done today it would seem maybe lazy to just grab all these classical songs and just stick them in there, but with this movie it just makes everything just so much more grand and bombastic. The music in this makes the visuals come out of the screen even more I think. It's so grand and bombastic, those are the two words because of the imagery that's going along with it. He does the same thing in
2001: A Space Odyssey
, that music just fits so well with the imagery. So rather than hire Danny Elfman or John Williams he just grabs these classics that nobody really used or uses anymore. It also sort of gives the viewer something to latch on to because it's so noticeable because you know these songs. The moment it starts playing "Pomp and Circumstance" you're reminded of graduation and sort of the grand stand up and tall posture of the doctor, the very proper British doctor articulate and all. I loved the music. Do you think that some people are turned off by Beethoven?
Me
: You mean generally or the way that it's used in the movie?

A. James
: In the movie. Like in his bedroom that first night, the music starts and they show weird posters on the wall and that statue of the dancing Christs, and the snake and there's a poster of a woman spreading her legs and spreading her vagina open with her hands next to this Beethoven. It's like boom, coming at you, and I love that but I wonder if some people are turned off.
Me
: I don't know. Thinking of it critically I think it fits well. In all honesty Beethoven's music itself is bombastic, it's something for your ears that just opens you up and the visuals for this film that you see while this music is playing pretty much gives you an idea of what you're going to be subjected to for the next two hours and fifteen minutes.
A. James
: Another thing is that it can kind of go along with is that Alex, by the end of the film, can no longer listen to Beethoven anymore. As a viewer you can sort of relate to that. If it was just some sort of random music you don't care about, the impact of the message might not be as big of a deal. If you were told you're going to get sick everytime you listen to Beethoven that makes the message hit home a little bit more with recognizable music.
Me
: That's totally true. Well thank you so much for talking with me and thank you for getting me to revisit this film.
A. James
: You're welcome and thanks man.
Let me know what you think of A Clockwork Orange as well as the interview below in the comments.