Interview: Jeremy Piven talks "I Melt With You"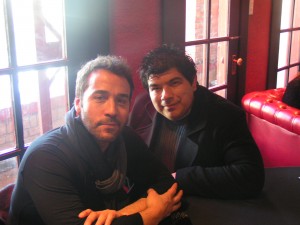 To say Jeremy Piven is a workaholic is quite an understatement. You would think the "Entourage" power player would slow down after his hit show ended its run earlier this summer, giving him a well-deserved break. But instead he's thrown himself into more work, running from film sets to award shows, even hitting the Sundance Film Festival earlier this year to promote his new film, "I Melt With You."
Piven describes the film as "The Big Chill" meets "Apocalypse Now" and while male bonding is the glue that holds all three films together, there are some polarizing dark turns that set "I Melt With You" apart from those earlier comparisons.
The buzz for the film started at this year's Sundance Film Festival where its first public screening sent moviegoers into a wild ride of drugs, sex and other bad decisions. Directed by music video magnate Mark Pellington, the film's soundtrack and use of classic rock seeps deep into the story of four childhood friends who come together for a wild weekend that climaxes with dark skeletons being revealed.
The following is my conversation with Jeremy Piven about his work navigating the film world post "Entourage" and why it's almost impossible for him to take a break.
Q: Since you're obviously doing a lot of interviews back to back, is that something you can get used to or do you see it as part of the job?
Jeremy Piven: Like acting, I think it's your job to be present for every question and answer it like it's your first time.
Q: Was it a conscious choice to follow up "Entourage" with another story of male bonding and bad decisions?
Piven: What initially attracted me was the script. I had just finished "Entourage" and was about to take a break but after reading the script I knew I had to do it. As a stage actor and part of a stage family growing up, I knew walking away from this role would be sacrilege.
Q: How did the male bonding of "Entourage" compare to the male bonding of this film?
Piven: This felt more like a Cassevetes film to me in the sense that there were no trailers back then or intrusive materials and that's what we tried to do on set. We were all there because we loved the script and wanted to be a part of it. We got to shoot chronologically and we all bonded as a result of that and it allowed us to do our best work.
Q: Wow, that's almost unheard of these days.
Piven: You're right and it was all geared toward making the best film possible. It's a story about people facing themselves for who they really are. Who they thought they would become and who they really are.

Q: Did it get a little crazy on set?
Piven: Well one night we all had a huge, extravagant Korean BBQ feast for lunch and the next scene we shot was all of us running naked into the ocean. It was a lot of fun but probably not the best idea.
Q: The film seems to be very polarizing. Was the script divisive too or did the film turn out that way in the editing room?
Piven: You have to understand, I've dealt with more rejection than most people. Auditioning is like getting on your knee and proposing and of course they reject you anyway. We wanted someone taller. I was a fresh face winner at 40 so at this point I'm lucky enough to be doing movies I love, even if they're not for everyone.
Q: What kind of collaboration did you have with director Mark Pellington to bring that performance out of you?
Piven: He's so well equipped in many different ways so he can grab a camera at any time and shoot you. He understands this story so intimately and the music also plays a big role in this movie that marrying the two was perfection.
Q: How did you prepare for some of the film's intense, drug-filled scenes?
Piven: I knew I could go there but it was an emotional root canal. I was so thankful this was an 18 day shoot because it was thrilling, exciting and emotionally draining so you don't want to drag that on too long. It was like "The Big Chill" meets "Apocalypse Now."
Q: How do you decompress from something like that?
Piven: I immediately went on vacation after the shoot was over and after a day I went on to shoot "Spy Kids 4" and a Miley Cyrus movie. So in other words it's hard for me to take a break.
Q: Which of your films do you feel is the most underrated?
Piven: I hope it's not this one.
"I Melt With You" opens in limited release December 9 and is also now playing on video on demand.