This Week in Trailers: Oct 22nd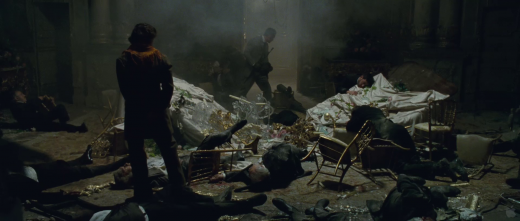 Another week = more trailers:
THE BEST
Synopsis: Sherlock Holmes and his sidekick Dr. Watson join forces to outwit and bring down their fiercest adversary, Professor Moriarty.
The movie was kind of awesome two years ago and with
Robert Downey Jr.
,
Jude Law
 and one of the best on screen moustaches in a while I nominate this for "most fun" December release. It may go off the deep end as sequels feel the constant need to one up its predecessor, but I have hope. I even have a higher hope that somehow
Guy Ritchie
 will take this good momentum to make something original that's truly spectacular once he's done winning back the studio's good faith after his failures with
Swept Away
 and
Revolver
.
Synopsis: Six years after their Guantanamo Bay adventure, stoner buds Harold Lee and Kumar Patel cause a holiday fracas by inadvertently burning down Harold's father-in-law's prize Christmas tree.
I love
Harold & Kumar.
The last episode - in Guantanamo Bay - wasn't good however, so I have my doubts. However, this redband trailer, mostly thanks to
Thomas Lennon
 and his child, looks hilarious. I wonder how much work the director had with that child for scenes like the one where she's "needing" it.
Neil Patrick Harris
 seems to continue his run of great performances as a parody of himself (a more extreme extension of Barney Stinson) with his crashing the world of Heaven and taking the angels for a ride. I should probably lower my expectations, but.... I want this movie to be great - and then the series ends.
THE INTERESTING
Synopsis: Three high school friends gain superpowers after making an incredible discovery. Soon, though, they find their lives spinning out of control and their bond tested as they embrace their darker sides.
I'm most worried that I think the film is hanging onto the faux documentary style too much. If this was a film told through the conventional methods we'd be seeing just another
Covenant
 which no-one ever wants to see again. However, somehow with the realistic documented style it looks like it might just work, I just can see the near future (yes I should be in this movie) where this genre completely burns out and no matter how cheaply they can make these movies it won't be profitable anymore and studios will stop making/buying them.
THE WORST
Synopsis: A look at how a couple's romance is affected by the Bosnian War.
I feel like it's too early to be condemning this movie, and when I do see it at the end of the year I'll see how
Angelina Jolie
 did with her directorial debut, however this movie just doesn't look interesting at all. It has all the elements of period depressing romance but I just don't see anything particularly interesting about it, and it's not that I'm a clod hearted bastard or something.
Synopsis: Chinese sex workers in 1937 volunteer to replace university students as escorts for invading Japanese soldiers.
Let's get this straight, I love
Christian Bale
, and I love
Zhang Yimou
 even more. However this is quite honestly one of the worst cut trailers I've ever seen. It's like someone told the editor to shove in the most "powerful"
Bale
 scenes and a lot of war action with people shooting people, etc. It's just boring and feels like the story sits in the back seat with sex and violence and
Bale
 is strapped to the hood of the car just so we look at that first.
What's the best trailer of the week for you?