This Week in Trailers: Oct. 15th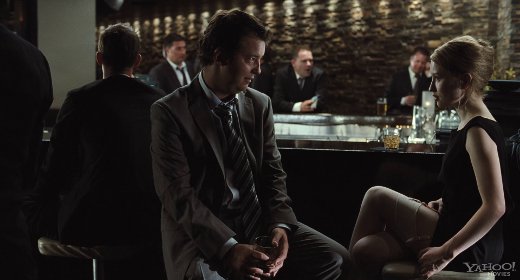 More trailers please:
THE BEST
Synopsis: A haunting portrait of Lucy, a young university student drawn into a mysterious hidden world of unspoken desires.
There are trailers I've found that just speak to me. Just like there are films that I don't expect the general movie going population to get behind. This trailer is just intriguing and oozes mystery from frame to frame with Emily Browning being talked into being in the sex trade.
The film's relationship with the name (obviously also the name of a classic Disney film) isn't quite clear to me. There are some shots (including the final one) in the trailer which give me the feeling that this may be a reinvisioning, but I'm not quite sure and don't want to commit to that mode of thinking so quickly. All I know is that I want to see this movie and hope Browning does a lot better than she did in the film earlier this year, Sucker Punch.
Synopsis: In New York City, Brandon's carefully cultivated private life — which allows him to indulge his sexual addiction — is disrupted when his sister Cissy arrives unannounced for an indefinite stay.
I'm the biggest Micheal Fassbender fan that you'll find out there on the net and when you add Carey Mulligan and the director Steve McQueen to the mix then I'm sold.
While I didn't go wild for Hunger (and yes I've been meaning to give it another chance to win me over) I did see the talent from the director. So with what seems to be a much more character built drama with a lot more plot to it I feel that this may be the make or break film for McQueen in my eyes. I've already heard a lot of things about the film after it's playing at TIFF last month. Can't wait to see it.
THE INTERESTING
Synopsis: Jim, Michelle, Stifler, and their friends reunite in East Great Falls, Michigan for their high school reunion.
I was 14 when the first iteration of this franchise was released and to say that my memory of it is foggy is an understatement. What I do know is that it was funny, and more to the point that it's been dragged into the ground over the years with a number of National Lampoon's style spin offs that go direct-to-DVD.
Here all the original cast return with us finally getting to ask "Where'd they go?" with very few of them actually doing big film/TV work after this franchise was over. The film seems to be keeping to it's very sexual humour, even with it being grown up and all, and I can't wait to revisit it all.
Synopsis: The S.H.I.E.L.D. agency brings together a team of superhumans to help save the Earth from annihilation by extraterrestrial invaders.
I'm not going to lie to you. I'm stretching my imagination here. This movie may just turn out to be bad. But I want so very much for it to be good. I want Whedon to succeed. I want it to be fun, and I want it to rock my socks off. The trailer doesn't give me much to go on, a few scenes of people blowing things up and flying in Iron Man suits and members butting heads with some fun sounding dialogue (mainly Robert Downey Jr.).
I'm willing to give the film a shot. The question I want to ask is after this movie is done and released will Marvel allow all of their superhero films to stop intermingling?
Synopsis: Two top CIA operatives wage an epic battle against one another after they discover they are dating the same woman.
I don't know why but the movie looks fun. It looks like a version of Mr. and Mrs. Smith (a film I love) with all the same kind of jokes except it's two guys fighting over a girl. It's not going to win any awards but it does prove that Tom Hardy can make me watch anything at this point, even when Reese Witherspoon is in the bloody movie.
THE WORST
Synopsis: An elite team of Navy SEALs embark on a covert mission to recover a kidnapped CIA agent.
Anyone here plan to sign up to become a NAVY SEAL? No. Then why are we watching this movie?
I get it people like action films set in a tactical war sense. But when the selling point of your movie is that it's a war movie starring active Navy SEALS using real tactics you can tell that it's going to wreak propoganda filmmaking. I prefer a film like The Greatest Film Ever Sold where the movie is upfront about it's desire to sell me on something as opposed to this which is trying to do it in an underhanded manner. I'll just go and watch Rambo: First Blood Part II again and be done with it.
Synopsis: Survivors of a nuclear attack are grouped together for days in the basement of their apartment building, where fear and dwindling supplies wear away at their dynamic.
Blah blah blah zombies/infected/end of the world. People are stuck in a hole waiting for it to be okay to go up and see the sun again but that's probably going to take a while and in that time food will run out, they'll be attacked and they'll probably soon enough become cannibals. It looks generic and boring and at the same time not as terrible as Skyline (yes I'll continue to shit on that movie).
When your trailer says "Michael Beihn gives one of his best performances of his career", an actor who I truly think has never given a good performance then you know the marketers are stretching for something that isn't there.
What's your favourite trailer of the week?