Movies You Love: Elisabeth Rappe from Film.com – Jurassic Park (1993)

I have to start out this article with a big thank you and a massive apology. For those of you out there who read and enjoyed my previous interviews with bloggers across the internet (
Ryan Helms talking about Glory
and
Aiden Redmond talking about The Matrix
) that was posted earlier this year and wondered why there was never a follow up. Well the excuse was that I kind of got busy with other things at the time. I've been holding onto this interview for near six months and then
Elisabeth Rappe
(writer for
Film.com
, and you can follow her on twitter
@elisabethrappe
) was so nice as to sit down and spend near an hour with me discussing her childhood memories with
Steven Spielberg
's
Jurassic Park
. This interview is a bit on the long side but it's got a lot of interesting stories from her past and I hope you enjoy it. I hope to revive this feature and who knows who or what will be next in the
Movies You Love
series of interviews.
Me:
You wanted to talk about Jurassic Park...
Rappe:
Ye. It was so hard to pick. Jurassic Park is really like anything else it's kind of rewriting history. It's so hard because you love Raiders, I mean everyone loves Raiders, everybody loved movies because of Raiders of the Lost Ark so it's not that good of a story.
Me:
The film came out in 1993 and at that point in my life I was 7-years-old and I saw it in the theatre. What was your experience the first time you saw it?
Rappe:
We saw it in the theatre it's one of the few movies that, because it's weird, you remember when you're a kid and movies just sort of burst in. You don't remember the lead up to the movie. I don't know if that's your experience at all. With the Disney movies that I saw as a child I don't remember trailers or magazines I just went into the theatre and watched the movie. Jurassic Park was one of the first ones I remember like actually knowing it was coming out seeing it in the magazines I was reading, hearing about it, seeing the trailers, seeing TV spots and just being really really really excited and we went to the theatre and it was the first movie that I had to stand in line for. We went to the mall, back then our mall theatre was the nicest theatre today you don't want to go to the mall, and the line wrapped around the mall and that was the first time that had ever happened to me so that had underscored how much of a big deal that movie was and was going to be. It felt like we were waiting in line for a thrill ride. I remember distinctly being so excited for this movie and you're like waiting and why aren't the people leaving the theatre because I want to see it, getting all impatient. I was 11, so I wasn't too much older than you.
Me:
So you were basically the age of my older brother then, who came with me at the time. One thing that I remember as a child watching that movie, and I don't know if you're also at fault with this, is that when I look back I don't remember the first 10 minutes of that movie. I remember the opening moment when you see the raptor being taken in, but between that moment and then them going and finally meeting
Sam Neill
I don't remember those scenes at all. Did you have a similar experience trying to recall your childhood memories of the film?
Rappe:
I think I remember the raptor scene and I think it was just being so excited and keyed up, sort of like you were impatient. I didn't really know the story, I knew that they had somehow made dinosaurs, I didn't connect it that there was going to be a park for some reason. I was thinking that the dinosaurs had been found for some reason. I remember the archaeological dig and thinking, "What does this have to do with anything? Are they going to dig a hole and the dinosaur is going to come out of the hole?" I remember just trying to fit the pieces into some mystery for some weird reason. I remember my first real distinctive memory of it, because it had to be built up and I remember thinking, "this is going to let me down." I might've had that thought dimly in my head, like I'm going to get let down by this whenever these dinosaurs appear it just cannot be as cool as it is in my head and then the real distinctive one is when you see the huge panoramic when you see them in the water and everything, I don't know if it's a brachiosaurus some of the dinosaurs have ceased to exist in Jurassic Park. Then he grabs the tree and that is still the moment I remember and thinking to myself that movies were never going to be the same. I remember actually thinking that as a kid, this is it, they're never going to top this and if they do I can't even imagine it. That was just huge, that was one of the most exciting things I had ever seen on a screen. The movie up till then is kind of a blur, like, "mmmm this is okay you know."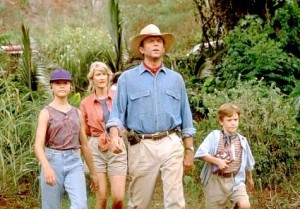 Me:
And then
Sam Neill
steps in...
Rappe:
Ye, it's like; "Sam Neill doesn't like kids. Whatever." So that's the scene I really remember. The movie's kind of a blur and I think, you mentioned the veloci-raptor scene, there was a part of me thinking, "are they going to fake it out?" like for the whole movie? Are we going to really see dinosaurs? If you remember, the first trailer we saw the T-Rex's foot and I remember when you only see bits of the raptor, I just thought they were going to fake this out like
Jaws
, we're never going to see a whole dinosaur. Not that they're going to look really real and I was really worried that I had been ripped off. I was obviously a very hyper aware child because right now I can't believe all this stuff was going on in my head.
Me:
Ye. I think an 11-year-old worrying about being ripped off seems strange to me right now.
Rappe:
Well. Somewhere in there, and I may even be wrong on the timing, but like
Super Mario Bros.
and
The Never Ending Story II
so I had already been disappointed in movies and movies that I had gotten excited for and imagined a certain way and you go in and you're, "ohh, I don't like this. This isn't what I thought it was going to be." I just kind of remember thinking it couldn't meet up to my expectations. I was a very mature 11-year-old. I was just thinking that there was so much hype and I just thought for a moment that it wasn't going to be very good. It was even in my "Ranger Rick" magazine and they were like, "this is a very scary movie," and I remember when that opening thing happens and I'm going, "I'm not scared. How could you be scared of a dinosaur without seeing the dinosaur?" That was my first memory of it and I remember at that point it was like, "ye this movie is going to be awesome." That first shot was, "this is the best movie ever, this is the summer right here." Well. It was the first movie, and I had gotten excited about a lot of movies and unfortunately a lot of them were old and they had passed me by. I was a little too young for
Star Wars
, I was a 2-year-old when
Return of the Jedi
came out but I was too young to really see it and enjoy it. I had toys and books but I didn't know where they were from. I was also too young for all but the last
Indiana Jones
. I remember seeing
Last Crusade
and that was a big deal, but that's another one that I don't remember a lot of build up. Kids at school were talking about, "there's a new
Indiana Jones
movie," and I was like, "that's cool, I want to go see it," and then my parents just took me and it was just that. There had been very few movies; I loved being sucked into the fantasy of a movie. I knew
Harrison Ford
was an actor but he was also very much
Indiana Jones
and
Han Solo
so I never had this desire to know how they did
Last Crusade
or
Star Wars
and I remember
Jurassic Park
being the very first movie that I really wanted to know how they did it and about the actors filming it. I really sought out any magazine that had
Jurassic Park
on the cover. I bought or just sat and read in like a Barnes & Noble because I was really curious what it was like to film it and how they did it. Were the dinosaurs' animatronics? Was it on a computer? And that's a weird break for me because now there's now only some movies I'll do that with again, and other movies I don't want to know how that was done because I like to imagine it's just really there and obviously in my line of work you don't have a lot of choice sometimes. That was a really big deal, and I remember being really jealous of all the actors who were in the movie. That wasn't something that had really occurred to me before; to be jealous of
Harrison Ford
or jealous of the people in
Star Wars
, but I was really jealous of the kids in
Jurassic Park
. It was sort of a dual fantasy because not only did I want to be in the movie but I wanted to also be the character of the movie and playing with dinosaurs and hanging out with
Sam Neill
or whatever. I think in a lot of ways I can almost pin point it to almost a "growing up" thing because it was like the knowledge that that was a fake thing, you wanted to pretend it, you wanted to be at least paid to play that game that you were hanging around with dinosaurs and then wishing it was real and you were really that character. It's actual a really interesting dichotomy and it was the first time I can remember having that experience and thinking, "God I wish I was an actor because even if dinosaurs don't exist you got to pretend they exist." It's kind of sad too when you think about it, I never thought that with
Indiana Jones
. I never thought, "I wish I could be an actor so I could be
Indiana Jones
,"
Indiana Jones
was just
Indiana Jones
. I never thought of him going to the set everyday and putting on the costume while with
Jurassic Park
I was thinking, "Ye I'd love to go and be covered in mud and have makeup put on me and climb an electric fence. That'd be so cool. I hate that kid."

Me:
"Why wasn't it me? Why?!!?"
Rappe:
Ye! You're getting into pre-teen and you're getting kind of aware of things like that anyway, like jealously and why some kids are luckier than you. Then you start getting a little more green-eyed than I probably was as a kid watching
The Goonies
or something, I don't remember watching
The Goonies
but "rrrr". Till I got older and it was, "ohh I wish I was a kid actor." But by then
Corey Feldman
had already gone off the rails so maybe it was better that I wasn't in
The Goonies
. That's what I really remember of that. Just so much piling on and kind of, and it's really stupid but I also remember even though I wanted to be an actor I had already given up like, "I'm 13 it's too late." 11 I should say. It was just an obsession that started that obviously didn't carry on. I remember after that realizing that since I couldn't be an actor since I was too old it's not too late to be a writer and I actually started, and I had the tape for a really long time and if I still had it I would actually produce this as evidence, and I did a fake interview with the actors of
Jurassic Park
with my friends playing the actors. That's just so sad.
Me:
That could probably be the next winning mockumentary
Rappe:
I had one of those, do you remember in
Home Alone
the "Talk Man" that he has and he records all the stuff in the second movie, the
New York
one.
Me:
That one is kind of a blur for me I have to admit.
Rappe:
See there was a movie that was a disappointment as a kid. If I was in New York I'd have done way cooler things.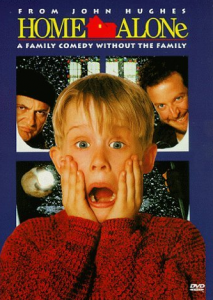 Me:
I had no problems with that movie as a child. It wasn't until number three came out that I started to realise the downward spiral that the franchise was taking.
Rappe:
I think I had already figured it out by number two. I think it was more the, "wow he's in New York," and the possibilities are endless and then he goes and befriends a homeless person. I was just thinking, "Why didn't he go to more toy stores?" But he has this recorder thing in the movie and he uses it for all his pranks and I had one and that's how I started my stupid thing. We used to make fake shows with it and try to do what
Macaulay Culkin
had done, which did not work that well. We didn't realise that they had enhancement effects in the movie which is why when we recorded the thing it didn't sound as good. It sounded like someone recording coconut shells or whatever and that was what we used for fake news programs and I did an interview and my sister played
Laura Dern
. I don't remember who else was in the interviews but I do remember that she was
Laura Dern
. I remember that she just did not understand the game...
Me:
What game were you playing?
Rappe:
I don't know. To this day I don't know what game we were playing, except that I do know that if I scripted whatever it was that was the only way I got to retain control of the Talk Man, because it was so coveted in my little group and I was told by my parents, "do not let anyone else have your talk man because they will break it," and that was the only way I could control it if I was the director or the journalist in the show and casted everybody else. What's sad is that it never occurred to me that we could actually recreate
Jurassic Park
and record it on the Talk Man and why the best we could do was a news program about
Jurassic Park
. We weren't even creative enough to be characters within the
Jurassic Park
world. In retrospect that would've been way cooler, like, "dinosaurs have escaped!"
Me:
I wonder who would be the T-Rex.
Rappe:
Ye, I dunno. We would've have
The Lost World
script before there was a
Lost World
because we would've been, "It's running around downtown Denver! Apparently it just came from a theme park."
Me:
Most children go through this phase, and I wonder if this is why this film was one of those big ones for you. Were you a dinosaur lover?

Rappe:
I was. It was part of a whole interest in history I think. I don't remember specifically collecting dinosaur models and toys. I didn't even get that excited about the
Jurassic Park
toys for some reason. I was really disappointed in them and I didn't have any. I don't remember why. I remember wanting dinosaurs and being really excited for what the toys would be and then seeing them and saying, "I don't want those." It was more that I liked seeing things recreated that didn't exist anymore and I was such a huge history nerd, even as a kid, that it wasn't dinosaurs for dinosaurs sake but that they're this thing that we don't know what it is and if we could bring it back to life it would solve all our questions. It's kind of weird because I remember being more fascinated with the process of how they did it, the amber and getting the DNA and thinking that you could then get woolly mammoths and sabre tooth tigers and you could get all the animal fossils out. It wasn't so much about dinosaurs which is kind of odd, but I remember after seeing the movie I wanted to be a Palaeontologist. It was mostly about digging up lost things than a real dinosaur thing. I was a really odd kid that way. We had a really cool dinosaur exhibit at our museum, and I know that fed into my imagination, which was just so retro Indiana Jones funky dinosaur hall it was less like seeing what they had really been like because I really liked seeing their bones. It's really weird in retrospect. It was the year that
Jurassic Park
came out that by my old house we used to have, actually it's still there, a big stretch of mountain called Dinosaur Ridge and as a kid that's the most exciting thing ever. They had a special tour that week, obviously they banked on
Jurassic Park
and kids being excited about it, and you could go along the spots that they have marked out for digs and things. They have this one spot and it's this huge thing of shale and its three big dinosaur imprints of them going up the mountain and they had it outlined with chalk so you could see it. It was the coolest thing as a kid. Seeing that and then going and seeing the movie a few weeks later was just the most, I remember walking along this thing by my house and thinking, "it's just like the ones in the movie," and really being blown away by that. It made it all come to life in a really unusual way. I think that's why I didn't buy a lot of toys and such, I was like, "I live where dinosaurs walked, I can go to the museum and see real bones, I don't need toy dinosaurs," kind of thing. It was strange.
Me:
It's really interesting to hear someone's perspective of a film and their build-up to a film. Especially at that age, because I believe then people tend to forget those kinds of things and just go to the nostalgia of the film itself. Is there anything else from that time that pushed you towards loving this film? You talk about the journalism aspect and the dinosaur aspect as well as the simple history aspect. Is there anything else you can think of that attributed to your love for this movie?
Rappe:
That was actually a summer that I saw a ton of movies at the theatre. We didn't have a ton of money so we didn't go very often and I remember that was an unusual summer that we went quite a bit. My summer basically started with
Jurassic Park
and I remember that was the first time I was allowed to go multiple times to the same movie and my dad actually worked off duty, he's a Denver cop, security at this mall so they would let me go in and watch it for free. So I must've seen it a dozen times, and you know as a kid the time of summer just seemed so much longer. Actually it's so much different now. Back then a movie like
Jurassic Park
stayed in the theatre all summer whereas now you get maybe three weeks, four weeks before it's gone and in retrospect being able to go and see
Jurassic Park
whenever I wanted and it being there all summer was pretty weird. It was in the biggest theatre, with the biggest sound and that I think was the first time I started to enjoy seeing things with audiences because I had seen it opening day and then getting to go back and seeing it with people who hadn't seen it I remember coming home and telling my mom how cool that was. I knew what was going to happen and they didn't and watching people jump out of their seats and popcorn go all over the theatre and after a while just going to get a sort of buzz off the audience, the people who hadn't seen it before. In a way I think that was because a lot of my friends, the two friends who I was oddly playing "let's interview actors" with weren't allowed to go see it because it was PG-13 and their parents were really strict and so I didn't have anyone to really talk to about the movie and how cool the movie was. So that was the closest I had to seeing it and talking with friends about it. It's just such an odd thing. Of course now I'm on the internet and all the kids saw
Jurassic Park
opening weekend but in my neighbourhood that was freaky. I remember that and seeing lots of movies that summer and nothing really matching up to that. I think that was the year that
Super Mario Bros.
came out.
Me:
Time for a Google race...
Rappe:
It was. But
Mario
came out before
Jurassic Park
so I guess it's not fair to say that it was a serious let down.
Me:
Your Google skills are stronger than mine. I am hurt. The films came out in the same year.
Super Mario Bros.
came out in May...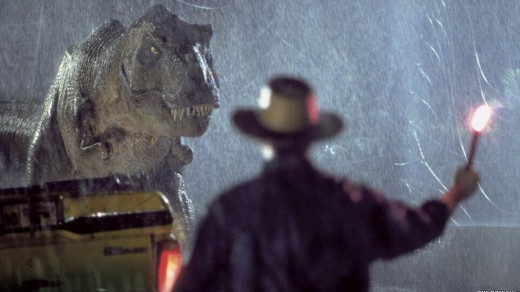 Rappe:
So it had come out before
Jurassic Park
. That's why in my mind I'm really going to be let down, because my sister and I had cooked up this whole plan how a
Super Mario Bros.
movie would be really cool. They should've just had us right the screenplay at 11-years-old because it would've been a way better movie. We had it all worked out. How the pipes and everything would work. I remember just being so excited that something could match my expectations because I know other movies that had really disappointed me then.
Me:
I imagine at that point, after seeing
Jurassic Park
, you think to yourself, "all I want at this point is to put
Dennis Hopper
in that cage with the T-Rex."
Rappe:
I remember even thinking at the time that it was weird that I had seen two movies with dinosaurs this year and only one was good and only one had real dinosaurs in it. I don't know what that other thing was. I almost wonder if
Super Mario Bros.
had got a whiff that
Spielberg
was doing
Jurassic Park
and that's how they got that little dinosaur Yoshi. It just didn't make any sense otherwise. They were like, "raptors are going to be awesome this year!" Probably not, but...
Me:
You never really know with these things though. You do see nowadays though, looking at it as an industry, when movies come out in pairs. One question I like to ask as people tend to pick films from their past. Do you think you'd have a different outlook on this film if you were seeing it for the first time today?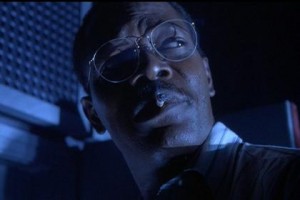 Rappe:
It's funny, because I watched it a bunch as a kid from 11 to like 13. Then I got into other stuff and I didn't watch it as much. I hadn't seen it for years and then I caught it again on television just randomly while I was staying in the hotel and there was nothing on and I was like, "YES!" I remember watching it and thinking, and I know this would be a criticism I would have as an adult that it's not a movie that has a lot of suspense once you see it in retrospect because from the very beginning it's just set up so that everything in the park is going to go wrong. It's not even a surprise when the power goes out and the dinosaurs go loose because you have
Samuel L. Jackson
and
Jeff Goldblum
basically saying, "Everything is going to go really wrong while we're here."
Samuel L. Jackson
even says it outright, "
John it could've been a lot worse and you know it.
" I remember watching it going, "wow," as a kid at it seemed so much more. It was definitely tense but I think it was really just my anticipation of just really wanting to see those dinosaurs carry me over the obvious lines of, "everything is going to go really wrong in a minute." That would definitely be a criticism that I would have now because when I watch it again I just kind of roll my eyes because it's really doom and gloom from the very beginning, instead of it being a genuine surprise when "oh crap" the T-Rex gets out as opposed to
Samuel L. Jackson
going, "man we're just lucky it didn't get out this time!" Well, now we've had so many good effects since then, but giving it 21
st
Century CG. Its like, would you have to erase everything that came before it because after
Lord of the Rings
and
Avatar
it definitely wouldn't be as mind blowing. The one reason that that movie just blew my mind as a kid was that we hadn't seen anything like that before, where a computerized image had weight and texture which looked really real, but now that's an everyday occurrence. So if it were said, "Jurassic Park coming out next summer," probably wouldn't be as exciting. Yay, a movie with dinosaurs running around, but that's it. I guess I probably wouldn't like it as much. The characters aren't necessarily that great, Grant is a cranky palaeontologist,
Laura Dern
is a paleobotanist and that's all you ever really know about them. Ian Malcolm is a mathematician. It's just really a pretty thin movie, but as a kid it was the best movie in the world.
Me:
You'd be like, "I love those Goonies!"
Rappe:
Ye. It's kind of sad. It is sort of the definition of a "popcorn" movie and it's not that isn't fun to pop on but now it really works on nostalgia. I think we rank it really high because it's sort of the last of truly popcorn movies that
Spielberg
did. It's the last of his:
Close Encounters of the Third Kind
,
E.T.
, kind of movies. I remember even being angry, like, "I can't believe he does
Jurassic Park
and just walks away." Then he starts winning Oscars and I'm just thankful he made that (
Jurassic Park
).
Me:
"Then he makes war films that I can't watch because I'm only 13."
Rappe:
Actually, I remember really championing to go see
Amistad
and just being so bored. Even though I really liked history I was just not into that movie then. And they actually took me to see
Saving Private Ryan
that year, I was allowed to see
Braveheart
at 13 I had no real restrictions...
Me:
You're a lucky girl. I lived in a restricted household when it came to films. I didn't see
Braveheart
till I was like 18.
Rappe:
Which was probably best because I saw it at 13 and it was, at that point, the grossest movie I had ever seen. I remember that that was the first movie that I was actually physically sick. I just felt all the blood drain from my body when I saw limbs going ever which way. I didn't know that could be shown legally.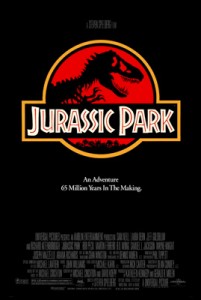 It's kind of funny, I look at friends not being able to see
Jurassic Park
and that movie didn't scare me, it didn't gross me out and thinking as a kid, "I really wish I could've seen what happened to the guy in the bathroom," and that really bugged me that it happened off camera. Well, they find his body off camera and bits of him. I was just thinking, "Don't cover that up with palm leaves." I wanted to see what a T-Rex does from a clinical standpoint.
Me:
Well before we go, I want to ask, since we're talking about
Jurassic Park
, of all the dinosaurs they omitted from the film which would you have wished to see in the film and which dinosaur would you want to have for a pet?
Rappe:
I remember reading the book as a kid and being really disappointed that they didn't have the stegosaurus and that's like our dinosaur, in Colorado. I also remember in the book there were pterodactyls which also sucked they weren't in the movie. I remember even wondering why they didn't do one, because I knew they had a robotic one at Disney that's not too bad, so I was never quite sure why they never did it. As a pet, it would have to be the "leafy" dinosaur. A brontosaurus would be too big, unless I could get a tiny one. Otherwise, if it were big (but not too big) I would have to get a duck billed one; what are those called? The ones from
Land Before Time
, the "ducky" dinosaurs?
Me:
My dinosaur knowledge has just seeped out of my brain from when I was child...
Rappe:
Me too. So whatever those duck billed dinosaurs that are in
The Land Before Time
because they're not too big. They're like the size of an elephant or a horse, so I could have one of those in my backyard and feed it truck loads of lettuce, fish and stuff I guess. Why am I thinking practically? I used to love these books, Dinosaur Bob, and I used to love that they would ride the dinosaurs. So I'd want a dinosaur that I could ride down the street.
Me:
Anyways, thanks so much for joining me for this Elisabeth and glad to talk with you.
Rappe:
Me too. Thanks for reading and make sure to let me know in the comments what you think of the interview as well as your own memories with
Jurassic Park
.