This Week in Cinema: June 1st

It's another week and Summer is in full force at this point in my mind so here's what's at my cinema as of today:
X-Men: First Class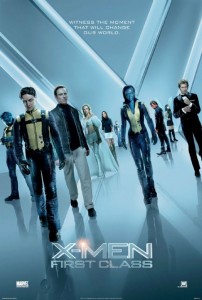 Directed by: Matthew Vaughn
Written by: Ashley Miller & Zack Stentz
Starring: James McAvoy, Michael Fassbender, Jennifer Lawrence, January Jones & Kevin Bacon
Synopsis: Before Charles Xavier and Erik Lensherr took the names Professor X and Magneto, they were two young men discovering their powers for the first time. Before they were archenemies, they were closest of friends, working together, with other Mutants (some familiar, some new), to stop the greatest threat the world has ever known. In the process, a rift between them opened, which began the eternal war between Magneto's Brotherhood and Professor X's X-MEN.
My Thoughts: Do you still want to know? I love Matthew Vaughn. Stardust and Kick-Ass are two of my favourite genre films and he's bringing that great style to a franchise that needs a new look. I can't wait to see how this acting talent heavy period piece where mutants are blowing stuff up. I'm in, are you?
What are you seeing this week?