DVD Picks of the Week: Mar 29th

I don't think I've seen a week of DVD releases this good. There're probably some DVDs/Blu-Rays out today that you shouldn't check out, but I haven't seen those. So here's what's out this week:
Buy It:
Treme: Season One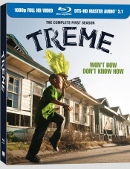 Created by: Eric Overmyer & David Simon
Starring: Khandi Alexander, Rob Brown, Kim Dickens, Michael Huisman, Mellisa Leo, Lucia Micarelli, Clarke Peters, Wendell Pierce, Steve Zhan & John Goodman
Why should you buy it? It's a show about the aftermath of Katrina and New Orleans trying to come back to life and what it really means to the residents of the great city. It would be really easy to make this show entirely, "cry for me," but the show focuses on these characters in a way that let's you cheer for them rather than weep and that's why I love it.
I've never been to New Orleans but somehow this show gave me a feeling of what it must be like to be in the Treme, especially after what happened to the city. I think one of my favourite moments from this show has to be when Albert and his friends are mourning a death and a tour bus pulls up and starts to comment on what's going on. The reaction from Albert, aka. Chief, and the rest of the group is just so brilliant.
If you haven't seen the show yet, it's time to catch up before the second season starts, which I don't know when is.
Mad Men: Season Four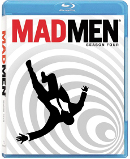 Created by: Matthew Weiner
Starring: Jon Hamm, Elisabeth Moss, Vincent Kartheiser, January Jones, Christina Hendricks, John Slattery & Robert Morse
Why should you buy it? After all that happened in the last three seasons the show has returned the spotlight to the enigma of Don Draper. He's left his wife and has to find a way to not sink deeper into the glass, even though he does for most of the season. We see Draper Pryce Cooper Sterling (not sure if I got the order right) grow after forming their new partnership and making a name for themselves all over again, there's more growth wit our female characters from Peggy to Joan and we even see Betty go deeper down her insane rabbit-hole with her new marriage and how her children respond to this change in setting.
Basically if you've been in love with this show you're going to continue to love it, if you had problems with the show you probably aren't reading this right now.
Black Swan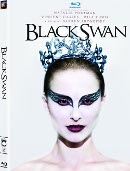 Directed by: Darren Aronofsky
Written by: Mark Heyman, Andres Heinz
Starring: Natalie Portman, Mila Kunis, Vincent Cassel & Barbara Hershey
Why should you buy it? It's one of the best films from 2010. The way that Aronofsky melded the story of Nina's rise to the spotlight and the story of Swan Lake is just so damn enjoyably creepy that I can't stop praising it. I know that I've been championing this movie from the end of last year to now so fervently that it might be warranted for a time-out so that other movies can be talked about, but I just love it. Aronofsky is one of – if not THE – best directors working today and he just refuses to miss a beat in each and every one of his movies. This movie is no different and everytime I see it I see new things and can't wait to watch int another fifty times when my bluray reaches my front door.
Read my full review here.
Tangled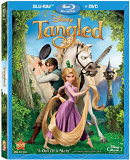 Directed by: Nathan Greno & Byron Howard
Written by: Dan Fogelman, Jacob Grimm & Wihelm Grimm
Starring: Zachary Levi, Mandy Moore & Donna Murphy
Why should you buy it? Because it might just be the best Disney effort since Beauty and the Beast. The movie takes the original idea of the fairy tale and expands on it in a way that's just so fun; and it's a musical. The voice acting in the film is so brilliantly done and I would've never guessed that Zachary Levi would be able to sing without making me want to jam a pencil into my eardrums.
Some say that I like it too much and ruin it because I lift their expectations a little too much, but I think it deserves that kind of a reputation rather than being second best to Toy Story 3 and How to Train Your Dragon.
Read my full review here.
The Rest
Evangellion: 2.22 You Can [Not] Advance
Fair Game
All Good Things
In Plain Sight: Season 3
Made in Dagenham
The Resident
Bluray
The Ten Commandments (Two-Disc Special Edition)
Scream
Scream 2
Scream 3
Topsy-Turvy (The Criterion Collection)
The Times of Harvey Milk (The Criterion Collection)
Against All Odds (Special Edition)
The Mikado (The Criterion Collection)
The Long Kiss Goodnight
Awakenings
Inferno
Teen Wolf
Dogtooth
What're you picking up this week?