1001 Films – The Thing (1982)
A group of scientists in the Antarctic have unknowingly invited an alien into their camp. This alien has the ability to imitate any living creature it attacks and exist in secret. One by one each member of the camp is suspected of not being human and it's a test of survival and wit to keep one step ahead of the creature.
John Carpenter, famed horror director, bring us his adaptation of The Thing From Another World starring Kurt Russell as the cowboy helicopter pilot that will do what he can to make sure that the camp, and him most of all, is safe from this alien entity.
The film's charm comes from its ability to build throughout the runtime. The film opens with us seeing the vast emptiness of the Antarctic and then suddenly we see a dog running in the snow being chased and shot at by a man in a helicopter with a rifle. After a while we find out that this is all because of the alien and the way that the camp of scientists slowly but surely goes from being civil human beings to having to resort to ridiculous survival tactics to ensure that the other person is in fact human is great.

Watching this movie from the perspective of someone who's always gone to the theatre to see the latest and greatest computer graphics plastered on the screen seeing the practical monster effects is not only refreshing but astounding. It's surprising to someone of my age to be so engaged by these practical effects in a way that some filmmakers with massive budgets today that they can't make the scenes with all the expensive graphics as effective as this film's monster scenes.
Kurt Russell, like in all of his films, just oozes awesome. He knows how to just be that guy. He's the guy who is just there, but as soon as it hits the fan he's the guy who's going to save you. The funniest part of it is that even though you wouldn't want anyone else leading you in a time like this there are still moments where some of the ideas that he proposes he does with little reason to believe that they'll work and he has nothing to go on but the fact that he's made the decision and is going to stick by it no matter what. There're even moments when this is happening and you can sense that he's even realising that he shouldn't be the one to do this, as if he doesn't believe himself anymore and he's following it through just because he doesn't want to back down.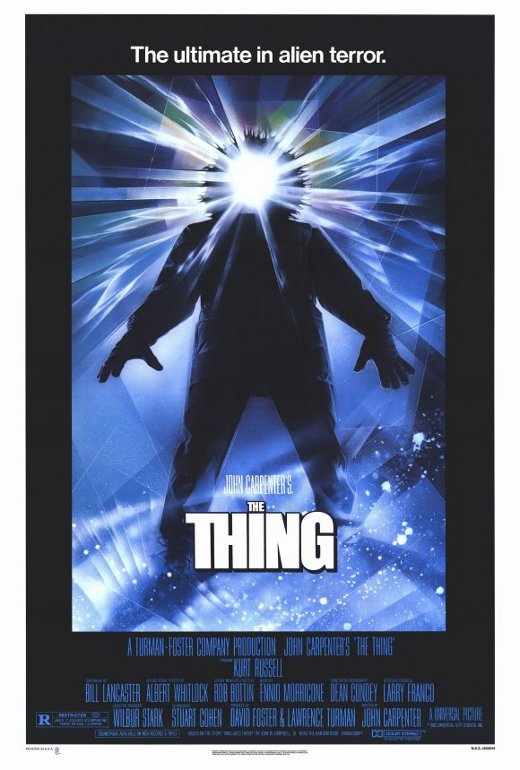 IMDB says 8.2/10
Rotten Tomatoes says 80%
I say 8.5/10