General Consensus: Inception (2010)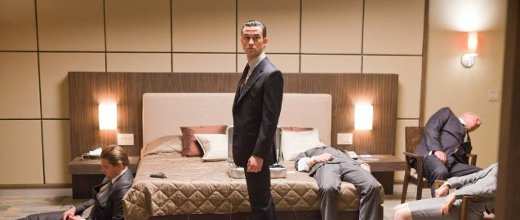 I've been trying to think of a way that I can return some link love for all those critics/blogs that I love to read.  Since I love reading reviews of films that I've seen what I'll do is each week whatever new release that I review here I will post what I think the 
General Consensus
of the movie is by posting short snippets of many reviews here.  Check it out below: So here's how this is going to work.  Since I want to create an average score for the film (like my own blogosphere only version of RT or IMDB) I will only count reviews that have a rating.  If your rating is letter graded then I will convert it using High School style grades (i.e. A = 9/10, B = 8/10, C = 7/10, D = 5/10, F = 3/10).  I'll definitely mention other, non-scaled reviews, but they won't be calculated into the overall 
General Consensus
.
Directed by: Christopher Nolan
Written by: Christopher Nolan
Starring: Leonardo DiCaprio, Joseph Gordon-Levitt, Ellen Page, Marion Cotillard, Ken Watanabe, Cillian Murphy & Tom Hardy
Release Date: July 16 (US), July 28 (JA)
Reviews
Not Rated
Don't get me wrong, Inception is a smart film - and it knows it because it tells us. I kind of expected it to be so layered that I would have to see it more than once to fuller get it, as you get from a lot of science fiction, bendy-with-reality films. Not hear, it's actual clear as glass. - Shannon the
Movie Moxie.
Although they're uniformly attractive, well-dressed, and badass, with the exception of DiCaprio's, none of them are fleshed out at all. I concede that there was only so much character work Nolan could do in two and a half hours, and that with the exception of Cobb, the characters aren't really the point of the movie anyway. -
Angie Han
Nolan, who also wrote the screenplay, lays out the rules of his world deftly. A ton of exposition is needed, yet it never feels like exposition. Things are explained plausibly, and in just enough detail for us to get it -- the last thing Nolan wants to do is over-explain himself. - Eric D. Snider from
Cinematical
.
Rated
Nolan quickly introduces us to the idea of 'shared dreaming' where a dreamer creates a world and allows another person to enter it and bring in their secrets.  Unlike most filmmakers which have to do what I call narrated storytelling, where they have to narrate the entire introduction by telling us exactly what is going on as we are watching it, he trusts us to figure out that this world that we're in initially is a dream and that Cobb and Arthur (Joseph Gordon-Levitt) are on a job to steal a mark's secrets. - Andrew from
GmanReviews
.  
Grade:
10/10 The problem is that this story is so elaborate that almost a full hour is spent with characters (many of whom are literaly just pawns in the plot) explaining to 'each other' (the audience) how this whole thing works. And just when you think you have everything figured out, something doesn't go as planned and even more is being explained. Chris from
Chris' Film Blog
.
Grade:
9/10 I have to say, right from the start, he just about missed. With an opening that felt rushed (and dare I say sloppy), Nolan thrusts us right into the world of corporate espionage, multi-layered dreams, and creative imagery. - Univarn from
A Life in Equinox
.
Grade:
7.5/10 They were more stylized and tense than bombastic, something along the lines of James Bond, where Nolan obviously draws inspiration from, and I thought that it worked perfectly well for a film with this kind of concept. - Dan from
DTMMR
.
Grade:
9.5/10 I've been thinking a lot about why I had such a hard time connecting with these characters since I walked out of the theater a couple days ago, and the one thing I keep coming back to is "inception" itself. The thing with this movie is that it's essentially a vehicle for an idea – an absolutely fantastic idea at that – and while the protagonists who've turned this idea into a way of life are interesting enough, everyone is just kinda playing their part to see how far Nolan can take it. - Aiden R from
Cut The Crap Movie Reviews
.
Grade:
9.0/10 Do not allow the fact that the film is somewhat disorienting or twisted make you think that it is profound or deeply meaningful on some level because it really isn't. Although it will keep your brain engaged from beginning to end, this is a summer blockbuster through and through and it is apparent that Nolan was limited by this constraint. - Castor from
Anomalous Material
.
Grade:
8/10 The acting was up to par, but this movie doesn't really allow of the performances to really reach a higher level. Leonardo DiCaprio was great in the lead, but you always get some scenes from him that give away that he's acting. - Red from
Anomalous Material
.
Grade: A
(9/10) The film is tremendously complicated, very intricate, and deeply metaphysical. It has very little interest in the real, and instead wants its audience to lean back and imagine possibilities to the enth degree. matter of fact - it 
demands
it, since this is where the movie is going to play out. - Matt Hater from
The Dark of the Matinee
.
Grade:
10/10 What is meant to confound the mind in a stimulating and energetic manner turns into a rather laborious process that gives us a contemptuous attitude towards a film that dares the impossible: it perceives colossal dreams and attempts to make them possible (key word there being 'attempt'). - Three-D from
Geeks of Doom
.
Grade:
6.25/10 But don't think 
Inception
is just an endless string of mind-numbing and complex scenery. The story at hand is quite simple. It is a heist movie. Just like 
Ocean's Eleven
, 
Thief
, or 
Le cercle rouge
, 
Inception
is a film about a team of thieves. Only instead of breaking into a bank vault, they must break into someone's mind. - Jeremy Kirk from
Firstshowing
.
Grade:
10/10 In the context of the rest of Christopher Nolan's filmography, it's a bit of an intellectual disappointment. And I don't blame the film for that. With my nebulous understanding of what 
Inception
was and what it was trying to achieve, I set a reference point based on Nolan's past work for the type of film that I thought 
Inception
should be, and assumed that's what it would be. - Adam Quigley from
/Film
.
Grade:
8.5/10 There are dazzling visuals and imaginative action sequences, but what makes this film special is the incredibly dense and carefully folded story that envelops the entire production. - Sean Dwyer from
FilmJunk
.
Grade:
10/10 One of the things Nolan does so remarkably well is to integrate sound and music into his films to enhance the emotional impact and – as is exceedingly evident in INCEPTION – move the story along at a comfortable and appropriate pace, without drawing attention to its self. - Travis Keune from
WAMG
.
Grade:
9/10
Inception
is clearly ahead of its time in many ways. It challenges audiences to think on multiple levels for over two hours, and it can be exhausting. The illusion of creating a dream world, so ingeniously envisioned as a walk through a four-dimensional Paris with DiCaprio and Page, rewrites the rules of visual effects as narrative structures rather than simply visual ones. - from
GetTheBigPicture
.
Grade:
8/10 Instead of making the created world one filled with pseudo-philosophy like the
Matrix
movies, Nolan decided to just tell an incredibly solid and engrossing story. It's easily my favorite Nolan film, and I do like the man's movies. The artistry on display between the acting, effects and cinematography are astounding. - Dave from
ScreenGeeks
.
Grade:
10/10 The biggest surprise, to me, was Leonardo DiCaprio. Not since 
What's Eating Gilbert Grape
have I felt fully connected to anything he's done on film. In almost everything he's done to this point, the impression I've always been left with was that I was watching DiCaprio perform a part — but always being present. - Dustin Hicks from
Film School Rejects
.
Grade: A+
(10/10) For all its seemingly complex concepts and structurally challenging narrative, at its heart, Inception is a pretty lucid experience. There is no highbrow psychological  mysteries to be unraveled for decades to come nor any pondering ethereal contemplations - Jordan Raup from
The Film Stage
.
Grade:
10/10 But though assembly of INCEPTION seems often gorgeously crafted and rigorously imagined (you will not see more stunning visuals elsewhere), there are parts that are nothing short of questionable. Much like a dream itself, we're not totally sure how things started. - Kate Erbland from
GATW
.
Grade:
9/10 To tell the story Nolan has recruited a perfect cast of names that properly fit each role and bring something to their characters either through their command of a scene, the cut of their jib or the overall joy it is to hear them delivering lines (I'm looking at you Mr. Tom Hardy). - Brad Brevet from
RopeOfSilicon
.
Grade: A+
(10/10) Here is a movie immune to spoilers: If you knew how it ended, that would tell you nothing unless you knew how it got there. And telling you how it got there would produce bafflement. The movie is all about process, about fighting our way through enveloping sheets of reality and dream, reality within dreams, dreams without reality. It's a breathtaking juggling act, and Nolan may have considered his "Memento" (2000) a warm-up; he apparently started this screenplay while filming that one. It was the story of a man with short-term memory loss, and the story was told backwards. -
Roger Ebert
.  
Grade:
10/10 Grandiose visual effects litter the film and some of them are truly mind bending. One scene in particular – a fight in zero gravity – will have people talking for some time. - Matthew Tyler from
The Film Stage
.
Grade:
10/10
Avg. Score: 9.2/10