Actor of the Week – Val Kilmer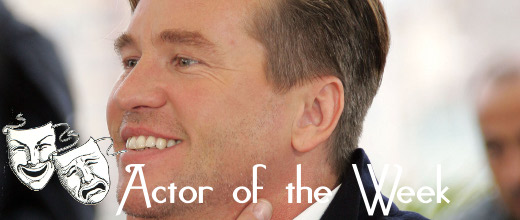 This is the weekly feature where I feature an actor and discuss three of my favourite performances by him/her.  Feel free to make suggestions for upcoming weeks in the comments for actors for me to feature here.  This week I will feature
Val Kilmer
.
Val Kilmer
is an actor who's seemed to be a part of every kind of cinema that you can imagine.  He's done the horrible 80s teen movies (
Real Genius
), he's done the amazing role that should've landed him a Golden Globe nomination (
Kiss Kiss Bang Bang
) and he's been the teen heartthrob that all you younger ladies want (
Top Gun
), but for some reason he's never gotten a Golden Globe or an Oscar nomination.  What makes him even better in my eyes is that he never seems beneath poking fun at himself by doing a completely over the top ridiculous role, like in
Bad Lieutenant: Pot of Call – New Orleans
.  So he's this week's
Actor of the Week:
Here are three of my favourite performances from
Val Kilmer:
3. Nick Rivers – Top Secret! (1984)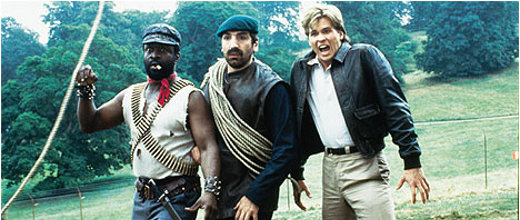 If you were entering East Germany in the early 1940s of course you would do it as a Rock'n'Roll star.  Here
Val Kilmer
plays a rockn'roll fool who joins the resistance to help rescue a scientist who's being forced to work for the Nazis.  With some song and dance and more ridiculous humour than you can imagine
Val Kilmer
enters the acting world with a great debut performance that shows that he knows how to win a fight in a saloon whilst underwater.  Check out one of my favourite scenes below:
2. Gay Perry – Kiss Kiss Bang Bang (2004)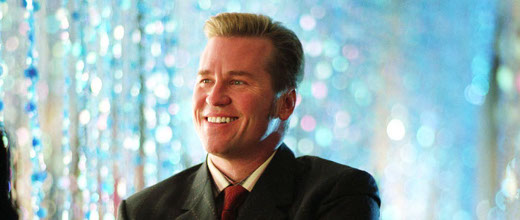 When you want your new star actor, Harry Lockhart (
Robert Downey Jr.
), to learn how the detective world works that means you have to team him up with one of the most witty and sarcastic P.I.s in the business, Gay Perry (
Val Kilmer
).  With every iota of his body
Kilmer
oozes pithy dialogue that you will be quoting for decades to come.  There is no way you can watch this performance and not think to yourself that this man is any less than a brilliant actor that deserves some respect shown.  There are so many scenes/lines to pick from but overall this says it best:
1. Doc Holliday – Tombstone (1994)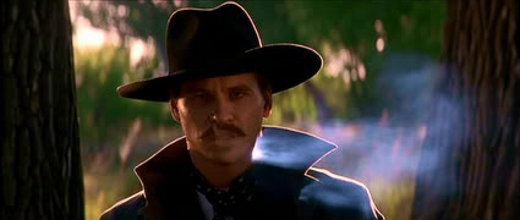 If I had to pick a western, pre my
Cowboy Marathon
, that would fool me into not hating the genre completely it would be this one.  With
Kurt Russel
and
Val Kilmer
kicking asses and taking names it's without a doubt the western of the last two decades that's stood out.  With
Val Kilmer
playing the role of Doc Holliday, a drunk card player who has a knack for joining up with the law men to help feed his good karma meter or something.  But seeing him in this moment helps remind me how awesome the character, and actor, is:
Val Kilmer's Filmography Top Secret! (1984) Real Genius (1985) Top Gun (1986) Willow (1988) Kill Me Again (1989) The Doors (1991) Thunderheart (1992) The Real McCoy (1993) True Romance (1993) Tombstone (1993) Wings of Courgae (1995) Batman Forever (1995) Heat (1995) Dead Girl (1996) The Island of Dr. Moreau (1996) The Ghost of the Darkness (1996) The Saint (1997) The Prince of Egypt (1998) At First Sight (1999) Joe the King (1999) Pollock (2000) Red Planet (2000) The Salton Sea (2002) Run for the Money (2002) Masked and Anonymous (2003) Wonderland (2003) The Missing (2003) Blind Horizon (2003) Spartan (2004) Stateside (2004) Mindhunters (2004) Alexander (2004) Kiss Kiss Bang Bang (2005) Moscow Zero (2006) 10th & Wolf (2006) Played (2006) Summer Love (2006) Deja Vu (2006) The Ten Commandments: The Musical (2006) Have Dreams, Will Travel (2007) Conspiracy (2008) Delgo (2008) Columbus Day (2008) Felon (2008) 2:22 (2008) The Steam Experiment (2009) American Cowslip (2009) The Thaw (2009) The Bad Lieutenant: Port of Call - New Orleans (2009) Hardwired (2009) The Irishman (2010) Fake Identity (2010) Provinces of night (2010) MacGruber (2010) The Traveler (2010)