Actor of the Week – Cameron Diaz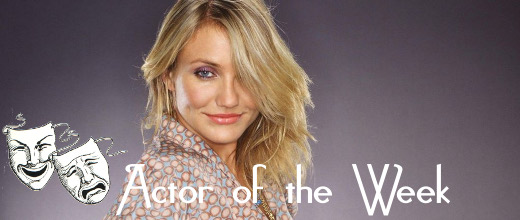 This is the weekly feature where I feature an actor and discuss three of my favourite performances by him/her.  Feel free to make suggestions for upcoming weeks in the comments for actors for me to feature here.  This week I will feature 4 time Golden Globe Nominated actress Cameron Diaz.
Cameron Diaz strikes me as one of these actresses who was told all her life that she's pretty because she's blond rather than anything else.  However, I like her now and then because she's not afraid to be silly.  Every once in a while she surprises me and gives a great dramatic performance.  Now I definitely don't see her as a possible Oscar winner, but definitely an actress that is loved and for good reason.
Here are three of my favourite Cameron Diaz performances:
3. Mary – There's Something About Mary (1998)
What do you think of a Farrelly brothers' film which centers around a man's obsession with a hot dumb blond.  Here Cameron Diaz really lets herself go with the silly.  From moments where she reacts to watching her roommate's dog being jumped on by Ben Stiller to the time she put semen in her hair thinking it was hair gel.  It's one of those silly comedies that you just have to love for how ridiculously insane it is.  Here's the trailer since I couldn't find a good clip online:
2. Julie Gianni – Vanilla Sky (2001)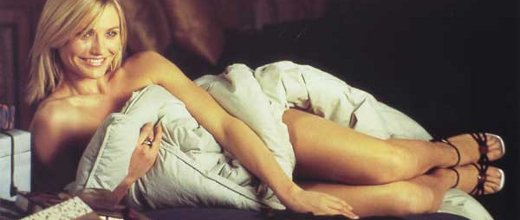 This is one of those movies that struck me as brilliant when I saw it but I can't remember much of it.  But what I remember most is Cameron Diaz.  She owned the film in her ability to portray this obsessive  character who wants to be with Tom Cruise.  Nothing, I mean nothing, will ever let me forget this moment in film:
1. Lotte Schwartz – Being John Malkovich (1999)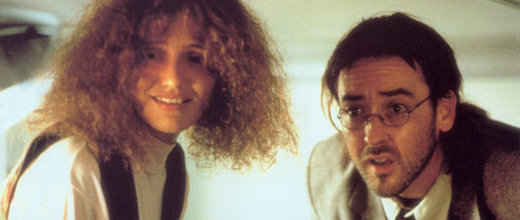 Why do I have to love movies that I can't find clips that I like that have the actors I want to show you all.  Here's a movie directed by Spike Jonze and written by Charlie Kaufman, i.e. it is one of those really weird movies that I love and everyone thinks I'm crazy for loving.  Cameron Diaz plays the role of wife to John Cusack and ends up falling in love with his crush at work while in Malkovich's body.  She shows such an odd sense of lust that it's almost endearing on screen.  Since I couldn't find a good scene to show you what I'm talking about, here's the trailer:
Cameron Diaz's Filmography
The Mask (1994)
The Last Supper (1995)
She's the One (1996)
Feeling Minnesota (1996)
Head Above Water (1996)
Keys to Tulsa (1997)
My Best Friend's Wedding (1997)
A Life Less Ordinary (1997)
Fear and Loathing in Las Vegas (1998)
There's Something About Mary (1998)
Very Bad Things (1998)
Man Woman Film (1999)
Being John Malkovich (1999)
Any Given Sunday (1999)
Things You Can Tell Just by Looking at Her (2000)
Charlie's Angel (2000)
The Invisible Circus (2001)
Shrek (2001)
Vanilla Sky (2001)
The Sweetest Thing (2002)
My Father's House (2002)
Minority Report (2002)
Gangs of New York (2002)
Charlie's Angels: Full Throttle (2003)
Shrek 2 (2004)
In Her Shoes (2005)
The Holiday (2006)
Shrek the Third (2007)
What Happens in Vegas (2008)
My Sister's Keeper (2009)
The Box (2009)
Shrek Forever After (2010)
Knight and Day (2010)