Actor of the Week – Al Pacino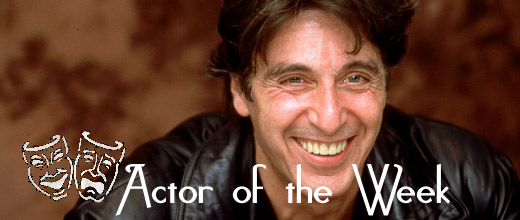 Here is another new weekly feature for gmanReviews.  Make sure to comment and let me know what you think of it.
This is the weekly feature where I feature an actor and discuss three of my favourite performances by him/her.  Feel free to make suggestions for upcoming weeks in the comments for actors for me to feature here.  This week I will feature 8 time Academy Award Nominee, he finally won the honour in 1993 for his role as Frank Slade in
Scent of a Woman
. I will admit before we continue that as much as I love
Al Pacino
's films, I'm yet to see a lot of the supposed 'great' ones.  Some of those that I've still missing from my 'seen' column are:
Dog Day Afternoon
,
Serpico
,
Donnie Brasco
and
The Insider
.  I've seen most of the others.  So this is my short preface for the list I'm about to subject you all to:
Al Pacino
has always been synonymous with brilliance, exempting in recent years.  It seems almost that since he finally won the Academy Award he's been doing crap movies.  His performances in these films have ranged from piss poor overacting to completely phoning it in.  It's become so bad that any SNL parody/caricature of
Pacino
would pass for any role he's played in the last five (or more) years.  I know that it's probably a lot easier to just cash the pay cheque.  But for you young whipper snappers out there who haven't seen
Mr. Pacino
in his prime then I suggest you check out these three films:
3. Frank "the flamethrower" Slade – Scent of a Woman (1992)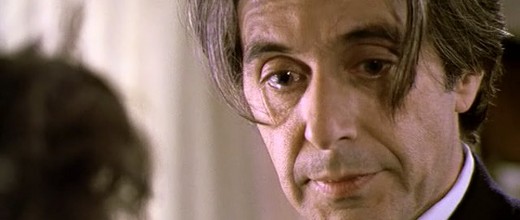 I know this is a film that not many people love.  However, love or hate the film you have to give
Pacino
the props here.  He's brilliant as this blind retired Marine Lt Col.  Some say that this is the beginning of the overacting, but I disagree, that started a three years later in
Heat
("She's got a BIIIIGGG ASSSS!!!!").  I love how well he was able to portray this sense of despair every for every moment he spent in, what he believed, was a disgusting excuse for an existence.  He plans this final "Whoo-Ah" to New York City.  He wants to remind himself of all the wonderful things that life has to offer everyone else.  Here's the brilliant final speech that he gives in the film:
2. Ricky "fuck you owe me a Cadillac" Roma – Glengarry Glen Ross (1992)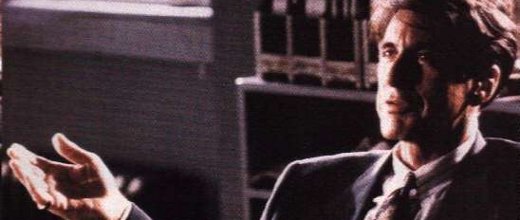 When deciding on which actor to feature this week it wasn't difficult as yesterday (with my internet being all wonky) I decided to pop in one of my favourite
David Mamet
films:
Glengarry Glen Ross
and was immediately reminded of a time when
Pacino
was still synonymous with brilliant acting.  Even though I would be very interested in seeing
Joe Mantegna
in the role of Ricky Roma (he played the role in the original on stage version of the film) I'm still so surprised by
Pacino
every time I watch the film. 
Pacino
's ability to portray this man who's the epitome of the greatest salesman ever is just so brilliant.  If you've ever thought what that guy who can sell ice to an Eskimo would look like: this is him.  Here's a scene from
Glengarry Glen Ross
:
1. Michael "an offer he can't refuse" Corleone – The Godfather (1972)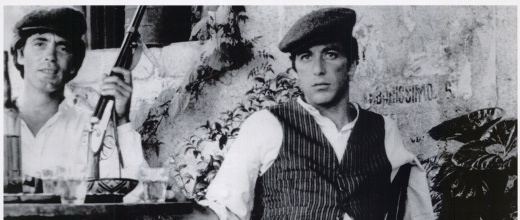 To think that this film is
Pacino
's breakout role is insane.  Most actors have to wait a decade or more for a role like this, and this was
Pacino
's third feature film.  I even found out years after discovering this piece of cinematic history that
Francis Ford Coppola
had to actually fight the studio tooth and nail for
Pacino
to play the lead role.  He had to film scenes without permission and show the footage to studio heads before they would allow it.  It's unimaginable now to think of this character being played by a different actor. 
Pacino
is famous with over the top acting, however in this film he's the complete opposite.  He's able to show us that he can express so much emotion with so little.  His cool controlled facial tics and small changes in his tone shows so much.  I love it.  Here's a reason why you shouldn't mess with the Corleone's:
This is the best version of the scene that I could find on the net that I could embed.
Al Pacino's Filmography
My Natalie (1969)
The Panic in Needle Park (1971)
The Godfather (1972)
Scarecrow (1973)
Serpico (1973)
The Godfather: Part II (1974)
Dog Day Afternoon
(1975)
Bobby Deerfield (1977)
...And Justice for All (1979)
Cruising (1980)
Author! Author! (1982)
Scarface (1983)
Revolution (1985)
Sea of Love (1989)
The Local Stigmatic (1990)
Dick Tracy (1990)
The Godfather: Part III (1990)
Frankie and Johnny (1991)
Glengarry Glen Ross (1992)
Scent of a Woman (1992)
Carlito's Way (1993)
Two Bits (1995)
Heat (1995)
City Hall (1996)
Donnie Brasco (1997)
The Devil's Advocate (1997)
The Insider (1999)
Any Given Sunday (1999)
Chinese Coffee (2000)
People I Know (2002)
S1m0ne (2002)
The Recruit (2003)
Gigli (2003)
The Merchant of Venice (2004)
Two for the Money (2005)
88 Minutes (2007)
Ocean's Thirteen (2007)
Righteous Kill (2008)