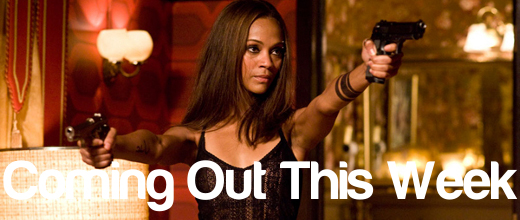 So here's what's coming out this week near my neck of the woods:
The Losers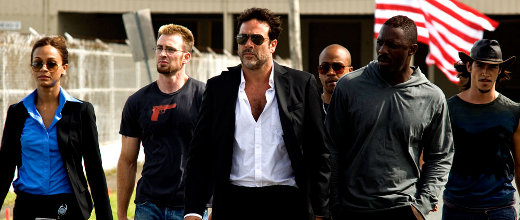 Directed by: Sylvain White
Written by: Peter Berg & James Vanderbilt
Starring: Jeffery Dean Morgan, Idris Elba, Zoe Saldana, Columbus Short, Oscar Jaenada & Chris Evans
Synopsis: A tale of double cross and revenge, centered upon the members of an elite U.S. Special Forces unit sent into the Bolivian jungle on a search and destroy mission. The team-Clay, Jensen, Roque, Pooch and Cougar -find themselves the target of a lethal betrayal instigated from inside by a powerful enemy known only as Max. Presumed dead, the group makes plans to even the score when they're joined by the mysterious Aisha, a beautiful operative with her own agenda. Working together, they must remain deep undercover while tracking the heavily-guarded Max, a ruthless man bent on embroiling the world in a new high-tech global war.
Trailer:

My Thoughts? It doesn't look like it'll be mind blowing but it looks like it will be fun.  It looks like an A Team kind of movie with Ocean's Eleven style banter and hilarity.  I for one am kind of liking this kind of movie.  It's based on a comic book of the same name, and though I've never read it I've heard it's pretty good.  This movie is one to check out, especially after seeing Kick Ass.
The Back-up Plan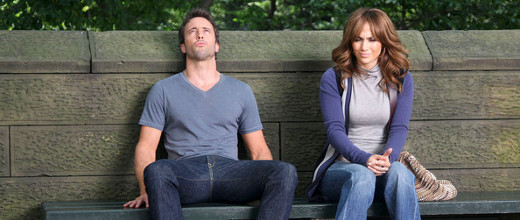 Directed by: Alan Poul
Written by: Kate Angelo
Starring: Jennifer Lopez & Alex O'Loughlin
Synopsis: A romantic comedy centered on a woman who conceives twins through artificial insemination, only to meet the man of her dreams on the very same day.
Trailer:

My Thoughts? This looks like a movie that is not made for me plain and simple.  It's the kind of movie that without seeing it I already hate it.  If you were to randomly bring up in conversation and say you pretended to like it I'd have to stop being friends with you immediately.  When last was Jennifer Lopez in a good movie?  I think maybe in 1998 when she did Out of Sight.  This is a skip and forget about it very quickly as far as I'm concerned.
What are you watching this week?