Top Ten Pick Me Up Movies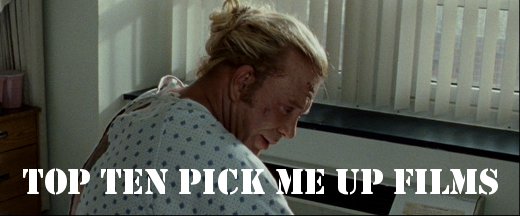 In this week's Top Ten list I plan on letting you in on my personal Top Ten Films that pick me up when I'm feeling down, or sick.  The topic came from non other than Dave from Screengeeks.com as I threw out suggestions for topics for today's Top Ten (not sure what to theme it around), so thanks to Dave you can all feel happier by checking out any of these films:
TEN – Death Proof (2007)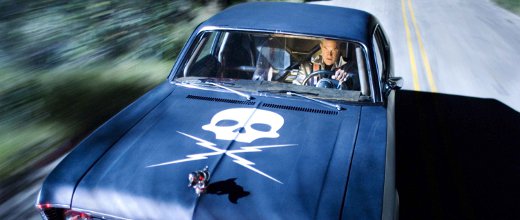 So this one is probably the most out of place pick, but I truely love this movie in ways you all just can't understand.  With every line of dialogue that Kurt Russell says as Stuntman Mike (as well as all the other characters in this movie) just brings a smile to my face as it's fun, witty and just filled with QT goodness.  The final chase scene (which lasts approximately 30 minutes) is the last time I was actually scared during a movie because I just felt fear for Zoe Bell since I couldn't understand how what I saw on the screen wasn't real.
NINE – Once (2006)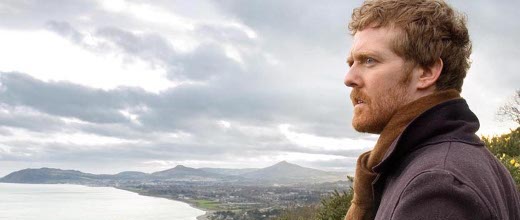 Glen Hansard plays a struggling musician who plays his songs in the local shopping plaza.  He decides finally to try and make his name after meeting a young pianist, Marketa Irglova, and he wants to head off to London to become a star.  The film takes us through those last few days in Dublin as he tries to put the record together and gets to know this girl more and more and fall in love.  This movie makes me smile all the while due to it's honest nature about these two characters and their relationship as well some really great songs.  Go check out the new Swell Season album people.
EIGHT – The Castle of Cagliostro (1979)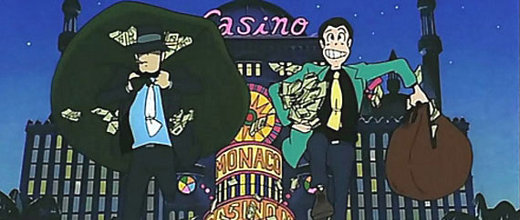 I don't think it's possible for me to make this list without bringing up a Miyazaki film.  While this isn't my favourite of his it is one of the elite films from him that is a genuine joy to watch.  It also helps that it's a Lupin film.  Lupin, for me, defines what a real charasmatic thief should be.  If you're a fan of films like Ocean's Eleven or The Brothers Bloom where you find yourself falling in love with the thief and not minding that he will get away with the loot in the end then this is the movie for you.
SEVEN – The Eternal Sunshine of the Spotless Mind (2004)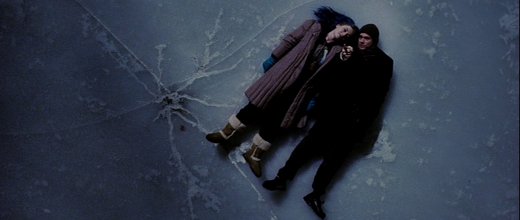 There's something about a great romantic story that makes me all warm inside and happy.  Jim Carrey and Kate Winslett star in a film about love and the lengths people will go to try and deal with the pain of love lost.  Michel Gondry gives us a great film that will stay with you as you see some of the dazzling visual tricks that he plays with you as he takes you (literally) through our protagonist's mind.
SIX – Speed Racer (2008)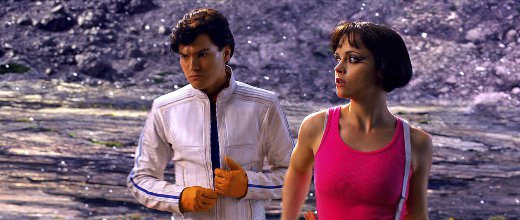 The Wachowski's give us their live-action remake of the popular 60s Japanese animated TV show about a world where cars go fast enough to put 6Gs of strain on their drivers and a guy is okey for dressing up with a massive X on his forehead.  This movie is not a great movie, however it is one of those movies that makes me smile from ear to ear during every frame.  I love all of the driving scenes (especially the cross country rally and when they get into the ice cave section).  This movie is gorgeous and I love what the Wachowski's did with it.  I don't care what you think of me, I love this movie and will defend it to my grave.
FIVE – Hot Fuzz (2007)
What??? You've never seen the genius that is Bad Boys and Point Break??? Well don't worry, just watch this action movie spoof that Edgar Wright, Simon Pegg and Nick Frost made and you will get the gist of all of those movies that all of your friends pretend to like.  This movie is completely ridiculous and for the correct reasons.
FOUR – The Princess Bride (1987)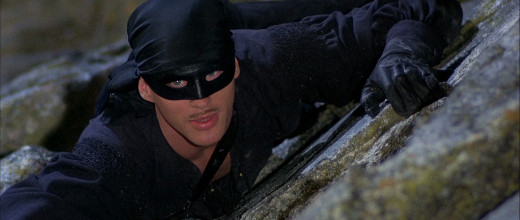 The man in black has come to rescue the damsel in distress.  It's a sweep you off your feat fantastical tale of Prince Charming and all those fairy tale type of stuff.  I love this movie because (as most of the ones above) it never takes itself seriously and it just wants you to enjoy.  Just remember, "My name is Inigo Montoya.  You killed my father.  Prepare to die."
THREE – Kiss Kiss, Bang Bang (2005)
When I think of completely quotable films I have to name Shane Black's Kiss Kiss, Bang Bang with Robert Downey Jr. and Val Kilmer.  It's a film about a mystery murder and someone seems to want to peg the murder on Harry.  The narration alone is enough to get you into this movie.  As it begins with Robert Downey continually realising that he's cocking up the story abd having to take you back and clarify and mention things that he forgot (and even sometimes telling people in the frame to move out of the way so you can see something) just keeps me laughing everytime.  Quote: Harry: "Still gay?" Perry: "Me? No. I'm knee-deep in pussy. I just like the name so much, I can't get rid of it."
TWO – Ferris Bueller's Day Off (1986)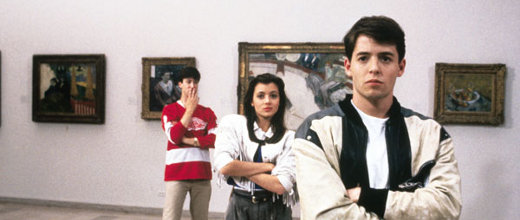 Here is an 80s classic.  Ferris decides that the day is way too beautiful too be in school doing tests and learning about socialism so he fakes sick and waits for his parents to head to work to take the day off and have some fun.  When I think of this film there are so many memorable moments that I can't seem to separate from the movie, but I think the moment that makes it special for me is this: (skip to 7:40 in the video)
ONE – The Blues Brothers (1980)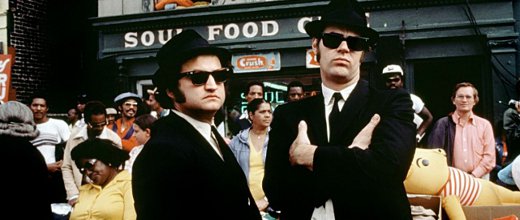 From the moment I discovered this movie I fell in love.  From Jake's list of excuses to a homicidal Princess Leia to Elwood's unexplainable obsession with dry toast.  The film is filled with so many jokes and absurdities that you can't help but laugh.  I love even more that when Dan Akroyd first wrote the movie he actually wanted to explain the super powers of the Blues Mobile but eventually it was cut from the final cut of movie because it took a lot of the fun out of it.  I love musicals and this movie gives me some great music and musical set pieces for me to love it.