The Yule Tide Marathon – Christmas Vacation (1989)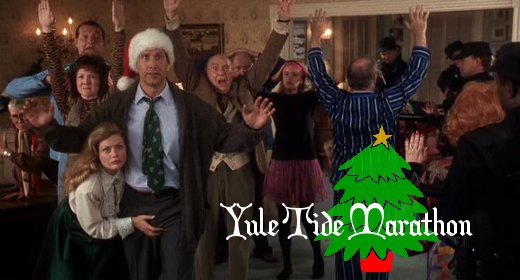 It's December and Clark Griswold [Chevy Chase] is planning on having the merriest and grandest time with his entire family at the Griswold house.  Until of course everything goes completely wrong, from the lights not working to Clark's boss not giving him that bonus he was planning on.  This is the Christmas from hell that keeps on giving all year round.
Sometimes it baffles me how certain actors just fade away, or end up doing films that make you wonder if it's the same person from twenty years ago.  Chevy Chase is one such actor.  He is hilarious in this movie and I cannot for the life of me understand how he came to be doing not so funny TV twenty years later (i.e. Community).  In this film Chevy Chase gets hit, falls and emotionally sent through a rollercoaster of bad luck over the span of the month of December and it is hilarious.  At points you feel really sad for him, but most of the time you're just laughing at what an optimistic idiot he and his entire family is.
One thing that struck me watching the movie was how packed the cast was in the movie.  The neighbours Todd [Nicholas Guest] and Margo Chester [Julia Louis-Dreyfus] are great and you sit there wondering how much crap they are going to take from the idiot next door.  The rest of the family is filled out with names such as: Ellen [Beverly D'Angleo], Clark Sr. [John Randolph], Nora [Diane Ladd], Art [E.G. Marshall], Frances [Doris Roberts], Uncle Lewis [William Hickey] and Aunt Bethany [Mae Questel].  Some of these family members you will recognize as your own: the crazy uncle and aunt that have gone crazy/senile from old age, the insane father-in-law that thinks everything you do is dumb and subtly mocks you as you continually try and fail and your father and mother that no matter what you do can't seem to see the fault in it.  If you don't know these characters then you're not doing Christmas right.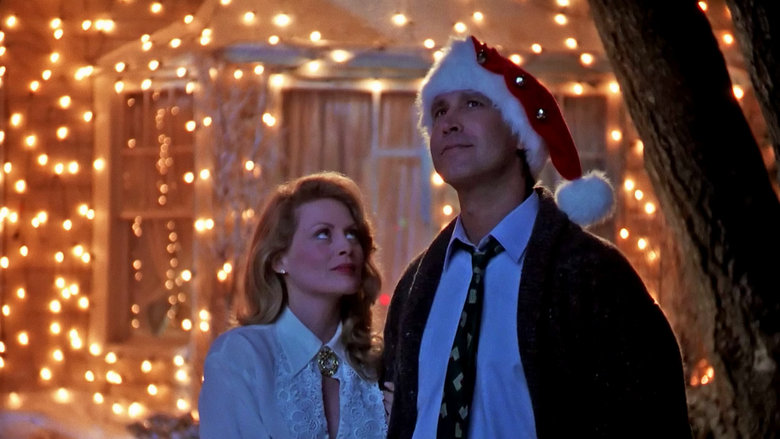 Cousin Eddie [Randy Quaid] is the stand out from the extended family of course.  Clark says it for us; that his cousin-in-law's "heart is bigger than his brain", which is shown more than once here.  As Eddie continually sews the seeds of practical jokes to come (the biggest probably him emptying the shitter) while at the same time being a laugh while doing it.
It's been said that movies are our escape.  It is the cheapest and safest way for us to experience the craziest things in life without having to ourselves be made an ass of, break our own bones or be broken emotionally via some huge trauma.  This definitely one of those movies you much prefer to watch than be a part of (in any shape or form).
This is a Christmas classic that you definitely want to share with your family during the holidays and deserves a spot in the marathon just for that reason.  Many Christmas films will make you feel the Christmas spirit; this one does it while making you laugh your ass off.
IMDB says 7.3/10
Rotten Tomatoes says 61%
I say 8.0/10