Loving the 90s [American Beauty]

Lester Burnham [Kevin Spacey] is a stereotypical suburban father and his wife, Carolyn Burnham [Anette Benning], and a daughter Jane Burnham [Thora Birch] is the stereotypical suburban family. Until of course they stop making those fake smiles like they're taking a family photo. Lester is going through a case of depression, while Carolyn is trying to be more successful at her job and begins to cheat on Lester, and Jane hates her parents since they are so 'weird' and she starts to get interested in the odd drug-dealer boy who lives next door.
This movie is Sam Mendes' feature film debut as a director. And this is quite the movie for him start out on. It is written by Alan Ball [Six Feet Under] who is an amazing story writer. He makes characters so flawed and lets you enjoy watching those flaws being blown up for everyone to see.
The film starts out with the scene of Lester waking up and getting ready for work. That one scene lets you know immediately what kind of film this is and what pace it will be taking. We will be concentrating mainly on Lester and how his life is being affected by his sudden moment of madness or clarity – depends on how you look at it – by quitting his job and deciding to live a rebelling life. Personally when you see the scene of him 'quitting' his job, it reminds me so much of the scene from Fight Club where Edward Norton 'quitting' his job.
This movie has some great acting. Kevin Spacey is amazing, Anette Benning, Chris Cooper and Wes Bentley. Even though Kevin Spacey won the Oscar for best lead, I think Chris Cooper was better than him in the film. He should've won an Oscar, or at least been nominated. Chris Cooper had probably his best performance for his entire career here. I loved him in Capote when I saw it, and this blows that straight out of the water. Cooper had the character amazing, the entire thing about him and how he disciplines his son for not being sure as to why he locked his door, or how he tries to confront his neighbor at the end of the movie. If you go in thinking that Spacey runs the show, you will be surprised so much that you will be paying attention to all the supporting cast for this movie.
The direction and cinematography are amazing here. Which I guess goes without saying since it won the Oscar for both. And before I continue to repeat myself Oscar-wise, this film own 5 Oscars – BEST FILM, BEST LEAD ACTOR [Kevin Spacey], BEST DIRECTING, BEST CINEMATOGRAPHY, BEST WRITING – and was nominated for three others. So basically with that alone you can tell this is amazing film.
Overall this is a must see, and I'm slightly embarrassed to admit this is the first time I'm watching it. It is a movie that you will want to own, and is now on my list for the next DVD order.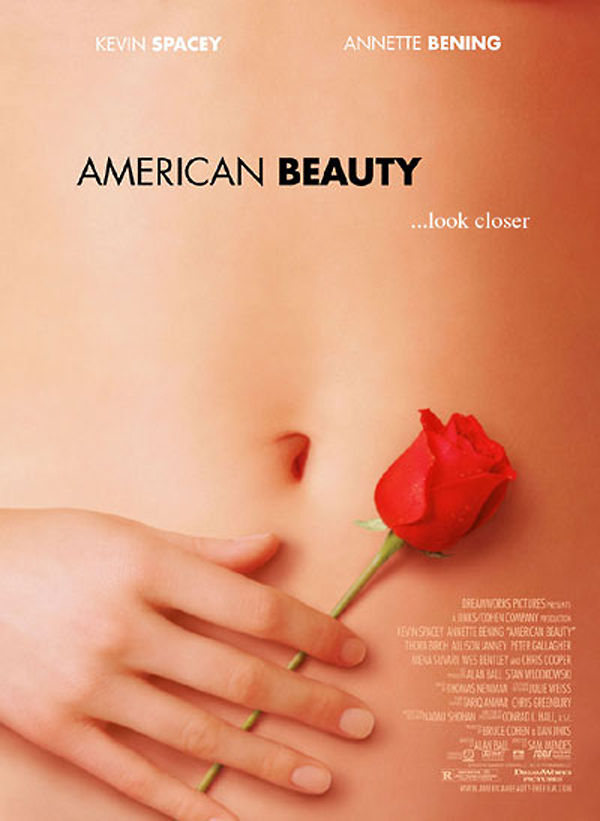 IMDB says 8.6/10
Rotten Tomatoes says 89%
I say 9.5/10