We enter this tale in the back of a vehicle with Fontaine (François Leterrier). He's paying close attention to the driver's shifting of gears, noticing that he isn't handcuffed and looking for the perfect opportunity to pop the door and make a run for it.
That is the introduction to the persistence of our main character, Fontaine – a French Resistance activist who has been imprisoned by the Nazis. So when all said and done and the door is locked to his two by three meter cell we know as well as Fontaine that there is only one thing on his mind, escape.
A prisoner's life is easy, you spend most of your time in a cell too small to keep an animal and they feed you – if you're lucky – and you go outside for a walk and to wash up once a day – once again, if you're lucky. So there isn't a whole lot to explore in the world of a prisoner. But when the film takes that life and turns it into a man turning his skills to figuring out what he needs and what he can do to fashion an escape then we have so much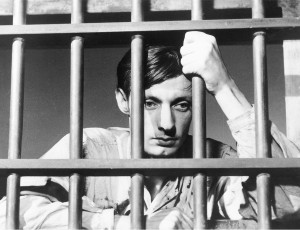 to dramatize. From his methodical manner of figuring out his escape route through the few moments he has being escorted to the yard to clean up to how he eventually ends up using what he has at his disposal by turning mundane items that are in his cell into the tools that he will eventually use to get him to escape make things much more intriguing.
Instead of a fast and flashy escape like Hannibal's escape in The A-Team, which used style and humour to get it over in all of a few minutes of screen time, this film knows that due to its realistic – and seemingly documented – take on the act of escaping from prison Robert Bresson knew that the entire runtime of the film would be needed to express not only the level of detail and discipline required but also the level of risk and effort in order to accomplish this task.
The film may have felt to have run its course at about the hour mark with its methodically structured manner but with the introduction of a new character, Jost (Charles Le Clainche), we add a new level of development for Fontaine. With his plan ready to be hatched and very little time to decide whether it'll all work he has to also figure out whether to take this cellmate or not, can he trust him? It adds a level of importance to almost every action that bigger blockbuster films should all aspire to.
Rating 9.0/10
Tagged as: 1001 films, A Man Escaped, Charles Le Clainche, Drama, Francois Leterrier, Movie Review, Robert Bresson